After Crazed Woman Flips Out On Matt Gaetz – Police Slap the Cuffs On, Charge Her With Assault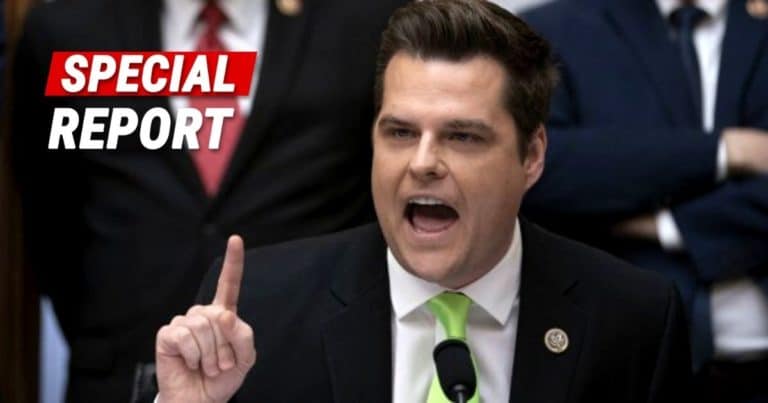 Political violence appears to be increasing around the country, and many say that general violence in public is becoming a much bigger problem.
Just ask Florida Republican Matt Gaetz, who was stunned when a seemingly crazed woman went after him in Miramar Beach. Reports do say the assault was politically motivated.
And police aren't about to look the other way — this time, the woman's getting charged with assault.
Rep. Gaetz was attending the South Walton Beaches Wine & Food Festival, where he encountered a 41-year-old Tallahassee resident named Selena Chambers.
Chambers reportedly hurled a glass of wine at Gaetz and was seen "shouting obscenities" at him, according to the sheriff's report. Gaetz was unharmed but police still had to step in.
The result is an assault charge and a significant fine, and it's yet another example of elected officials being targeted by citizens (and it's setting a scary precedent).
Via The Daily Caller:
Chambers has been charged with felony battery on an elected official. Authorities set her bond at $1,000, according to the press release. She was released the following day.

'We cannot allow an environment where you can throw things at elected officials because you don't like them,' Sheriff Michael Adkinson said in the press release.

'No matter your political affiliation, this is not the way to conduct yourself and will not be tolerated in Walton County.'
In a statement on Tuesday, the Florida representative pledged to ensure there are "appropriate consequences through the legal system" in this case.
He also added on Twitter:
BREAKING: Tallahassee Woman Arrested and Charged with Assaulting Congressman Matt Gaetz on Saturday Evening, Gaetz Issues Statement in Response

"I will never allow the safety of Northwest Floridians to be compromised. I will be pressing charges against this individual in order… pic.twitter.com/lXccJypznU

— Rep. Matt Gaetz (@RepMattGaetz) May 2, 2023
I want to thank the great folks of the Walton County Sheriff's Office, who ensured that this did not escalate and that everyone is kept safe.

And I want folks to know why we press charges in circumstances like this. It's quite alright for folks to let their voice be heard with an opinion or a comment. Folks can shout and scream all they want.

This is America, and people ought to be able to say what they believe, what they desire, even offer criticisms or critiques of people in public life.
However, Rep. Gaetz said that once people start throwing things and people can be harmed, "there is a severe risk of escalation and accident." And that's where we need to draw the line.
As for Chambers, she's reportedly a liberal writer who has demanded an uprising in "physical form," and is a donor and supporter of President Joe Biden.
She also wanted former President Donald Trump to be "deleted" from social media, so maybe it isn't surprising that she took the opportunity to go after a Republican on the street.
This is the sort of thing that can't be allowed, regardless of who's involved. Civilization appears to be crumbling around us, and the situation only seems to be getting worse.
It also doesn't help that, as Gaetz has stated, it seems clear that leftists are protected by all the powers that be, thereby enabling them to be even more violent in public.
Key Takeaways:
Rep. Matt Gaetz was assaulted by a reported leftist writer in Florida.
She threw a glass of wine at him and "shouted obscenities," and was then arrested and charged with assault.
Rep. Gaetz said he will be pressing charges, and thanked the Sheriff's Office for ensuring the situation didn't escalate.
Source: The Daily Caller