Ted Cruz Sends FBI a New Search Order – He Just Demanded Biden's Classified Doc Investigation to Expand to Hunter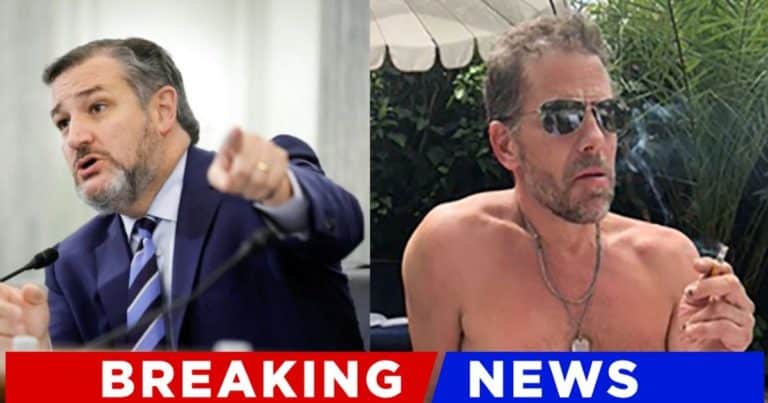 Last week, Sen. Ted Cruz suggested authorities check a new location for more of Joe Biden's classified documents: the University of Delaware. This week, he's got a new trick up his sleeve.
The Texas Republican believes there are more top secret documents to be found, and the government needs to keep looking. However, Cruz thinks the search shouldn't end with Joe.
Now he's telling the FBI to shift their attention to Hunter Biden.
During his "Verdict" podcast this week, Sen. Cruz talked at length about the classified documents found in the private office of President Biden, as well as at the Penn Biden Center.
And of course, there's the much-publicized discovery of the documents found in Biden's garage at his Wilmington, Delaware home.
However, Cruz believes the investigation won't be complete until they check out Hunter's home. And he believes it needs to happen quickly, because those documents might end up disappearing.
From Fox News:
The FBI needs to search and investigate to determine whether there are any classified documents at Hunter Biden's home or business.

The FBI doesn't need to sit on its rear end for days and weeks and months and let someone put those documents in a shredder. They need to show up tomorrow and search Hunter Biden's home and office.

If we care about protecting classified documents and understanding what Joe Biden has done, we need to do that immediately.
Cruz also brought White House Press Secretary Karine Jean-Pierre into the mix, saying she should be asked if Hunter Biden objects to the FBI searching his home and business.
If Hunter does have a problem with the idea, "that tells you something," said Cruz.
Last week, Biden was quoted as saying he has "no regrets" about how he handled classified documents, and that he's "following what the lawyers have told me they want me to do."
Added the President:
We found a handful of documents were filed in the wrong place.

We immediately turned them over to the Archives and the Justice Department. We're fully cooperating and looking forward to getting this resolved quickly.
The problem is that the number of documents continue to pile up, which is cause for concern among many Americans.
Critics argue that the President shouldn't have so many classified papers spread around, and they also wonder if he's even aware of their contents. How many state secrets are being misplaced or lost?
That's the question investigators likely wish to answer, though currently nobody is accusing Biden of intentionally hiding the documents.
If Hunter Biden gets involved, though, that could lead to new trouble — if authorities discover more classified documents in Hunter's possession, that will undoubtedly generate more questions and concern.
Hunter remains under heavy scrutiny, and his issues could have a negative impact on his father's 2024 re-election campaign.
Key Takeaways:
Sen. Ted Cruz suggests the FBI should search Hunter Biden's home and business for more classified documents.
Cruz added that if it isn't done immediately, it could give the Bidens a chance to destroy any hidden papers.
The President maintains that he's "fully cooperating" with his lawyers and authorities.