After Cummings Goes After Trump – Donald Opens Closet Of Evidence Against Him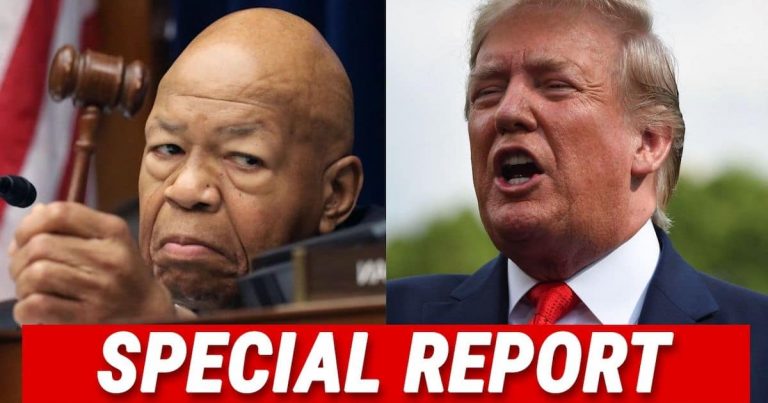 Donald's got Elijah Cummings right where he wants him!
Rep. Elijah Cummings and President Donald Trump have been butting heads over the Baltimore situation.
But in fact, Cummings had been going after POTUS for months before Trump called out the true situation of Cummings' Baltimore.
A few weeks back, the Democratic representative demanded access to Trump's financial records from before he was President.
But now we're realizing just how ironic that is…
Cummings' wife refuses to turn over her own financial records, and is now being accused of misappropriating millions in funding.
And now Donald is blasting it out to the world, from Trump's "War Room" on Twitter: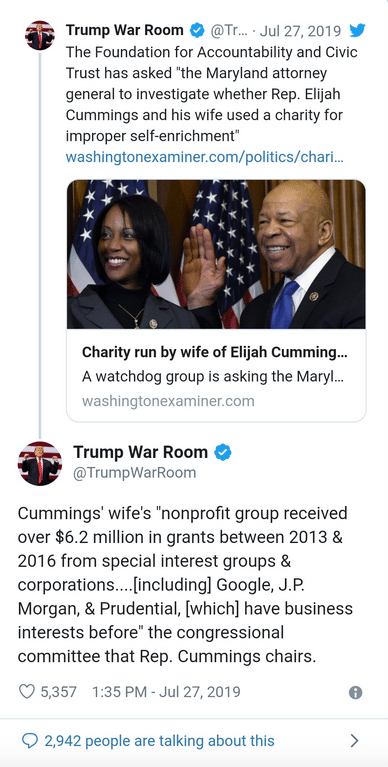 "Cummings' wife's "nonprofit group received over $6.2 million in grants between 2013 & 2016 from special interest groups & corporations… [including] Google, J.P. Morgan, & Prudential, [which] have business interests before" the congressional committee that Rep. Cummings chairs."
Ouch – Elijah's not going to live this one down!
The complaint accuses the couple of receiving "private benefit" via their non-profit's tax-exempt status.
Cummings demanded access to Trump's personal financial records … while his own wife is refusing to provide her own financial documents.
Of course, she's calling the accusations "lies" – but these allegations are now official.
Mrs. Cummings is facing accusations of perjury and self-dealing, and you know, you really don't want to mess with the IRS.
How many times have we found examples of Democrats breaking the law?
Even though neither Cummings nor his wife have been convicted yet, these allegations are troubling, and not uncommon in the DNC these days.
Maybe they should consider cleaning up their own act before they go after the President.
Is Cummings going to go down? Will Trump finally bring justice to these swamp politicians?
Do you believe the Cummings' are guilty? SHARE this story if you do!
Source: Conservative Opinion