Curtain Pulled Back On 2 Obama Officials – New Evidence In Susan Rice Email Shows Comey Didn't Want Flynn To See Russia Intel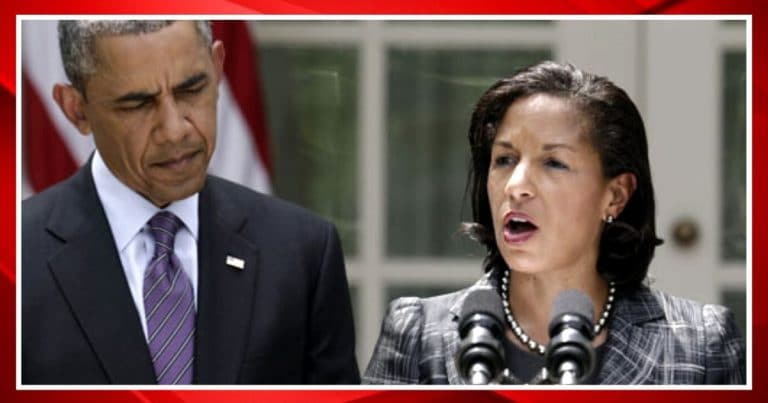 For years, Obama's people have acted like they were right and that Trump's officer Michael Flynn was the bad guy.
But new evidence from Obamagate is turning the tables on their narrative. A new bombshell document has been released: a declassified email Susan Rice sent to herself.
And the information it provides might shed light on why Obama's officials—and specifically Comey—targeted Flynn.
From Fox News:
Former FBI Director James Comey suggested to then-President Barack Obama in a January 2017 meeting that the National Security Council [NSC] might not want to pass "sensitive information related to Russia" to then-incoming National Security Adviser Michael Flynn, according to a newly declassified email that Flynn's predecessor sent herself on Inauguration Day.
Well, isn't this interesting! It appears Susan Rice, Obama's National Security Adviser, sent herself an email on the day Trump became president.
This document was just declassified and boy, does it have some interesting information!
Apparently, according to Rice, FBI Director James Comey asked Obama not to pass Russian-related information to incoming advisor Michael Flynn.
Flynn was soon to replace Rice as National Security Adviser. Intel about Russia would have been pretty useful to him, given his new role.
Yet James Comey—whose agency had wiretapped and eventually investigated Flynn—said Obama shouldn't let this information reach Flynn.
Now, why would that be? You can imagine that Obama's administration wasn't too excited to hand everything over to Trump.
But that's part of the job. Intelligence they gathered would now lawfully move to the new administration.
Why would any information be kept away from one of Trump's new officials? Especially a man like Flynn, who would be responsible for national security?
Could it be this was information James Comey didn't want Trump to know about? Maybe it had to do with the FBI's "Russian investigation"?
Maybe it had something to do with the "insurance policy" one FBI boasted about?
The FBI used Clinton's dossier to get a warrant on a Trump staffer. Maybe this was something Comey wanted to keep quiet?
It's pretty startling, no matter what it could be. For the outgoing administration to keep anything from the incoming one raises many questions.
Questions the American people deserve the answers to.
SHARE if you want Obama's officials brought to justice.
Source: Fox News