Feisty D-Day Vet Gives Melania A Red-Blooded Compliment – Then Donald Grabs His Attention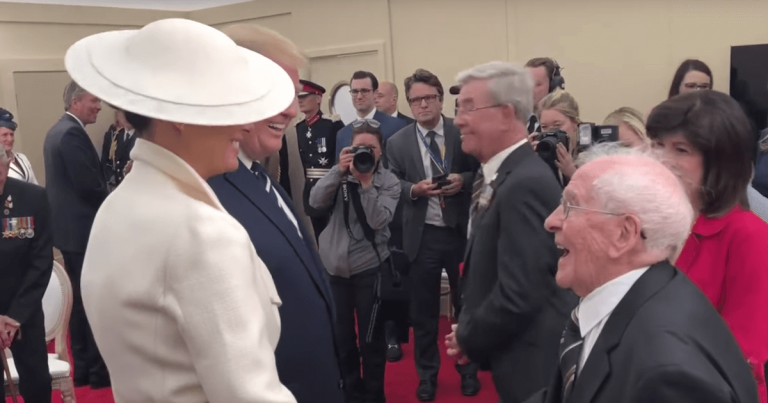 This WWII veteran flirted with the First Lady—and Donald didn't miss a beat.
There was a time in this country when men were men.
The Greatest Generation produced these fine examples of masculinity and no matter how old they get, they're still red-blooded American men.
And those who fought in World War II were also extremely brave to boot.
That's what you need to flirt with the First Lady: male confidence and bravery!
A wonderfully cheeky 93-year-old WWII vet did exactly that during an event commemorating the 75th anniversary of D-Day:
He didn't hesitate to make a little play for Mrs. Melania Trump… with her husband Donald standing right there!
D-Day survivor Thomas Cuthbert was introduced to the First Lady, who told him it was "an honor" to meet him.
That's when Cuthbert asked Donald if she was his wife, who he called "gorgeous." Then, without hesitation, he added:
"If only I was 20 years younger…"
Yup, this guy is still very much a red-blooded American male!
But you know what?
Donald didn't mind in the slightest; he shook Cuthbert's hand again and said he believed the brave vet "could handle it."
"There's not a question about it," Trump added.
It was just a fun, lighthearted exchange that also proved the Trumps are genial, easy-going people, who genuinely enjoy meeting the citizens.
In fact, Cuthbert said he was "surprised" by President Trump, who didn't act the way he did on television:
"He surprised me," said Cuthbert.

"You see someone on the TV but he seemed different, he seemed one of the boys."
And of course, the feisty vet was quick to add that "his wife was very pleasant as well."
Well, of course she was!
Melania is not only beautiful—she's also one of the kindest and most welcoming First Ladies this country has ever had.
And she didn't mind in the slightest that this war hero was making a little pass at her. It was just a compliment, after all!
The Trumps really do have a deep and profound respect for all courageous veterans, and that respect was on full display as well.
This little encounter just made my day—what about you?
SHARE to honor our President and our D-Day Veterans!
Source: The Sun