Dan Crenshaw Has A 'Destination' For Any American Offended By Our Revolutionary Flag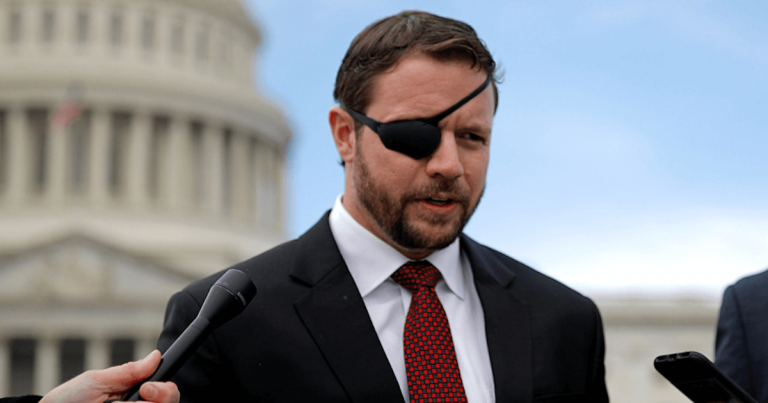 If you don't like our flag, this former Navy SEAL tells you where you can go…
Many Americans were upset when Nike decided to pull a shoe with the American flag on it.
The shoe featured our original flag, the one created by Betsy Ross during the revolution.
But Nike pulled the shoe after controversial NFL player Colin Kaepernick complained. Nike seemed to bow before Kaepernick's celebrity status, even though he hasn't been an NFL quarterback in years.
However, many voiced their displeasure with the move—including former Navy SEAL and current GOP representative Dan Crenshaw.
And this true American hero didn't hesitate to send a message to anyone offended by our flag (or any version of our flag).
From Daily Wire:
"Crenshaw, who earned two Bronze Star Medals, the Purple Heart, and the Navy and Marine Corps Commendation Medal with valor for his ten years as a Navy SEAL…

…during which time he lost an eye due to an IED blast — had a far different reaction than Democratic lawmakers."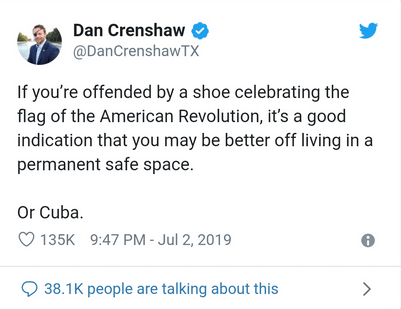 "If you're offended by a shoe celebrating the flag of the American Revolution, it's a good indication that you may be better off living in a permanent safe space. Or Cuba."
Rep. Crenshaw called out Kaepernick—and anyone offended by our flag—and said they should just move to Cuba.
His reference to Cuba is fitting because the former 49ers quarterback once praised Cuban dictator Fidel Castro.
But Crenshaw wasn't through defending America.
He then went on to slam the New York Times for posting a disparaging article about America—on the Fourth of the July: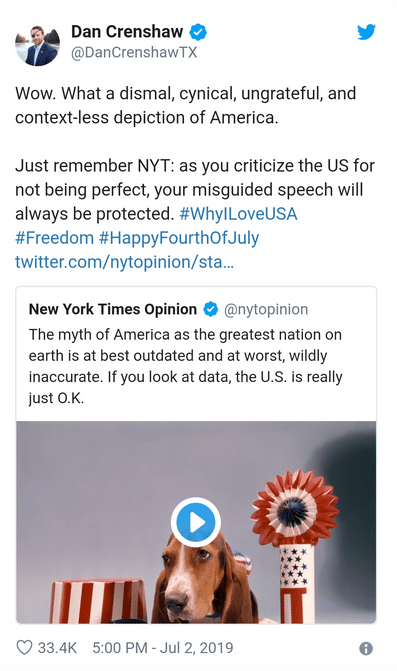 "Wow. What a dismal, cynical, ungrateful, and context-less depiction of America."
Listen folks, I have to agree 100% with Crenshaw—a man who was wounded defending our country.
If you really dislike this country so much, why do you want to be here?
In my view, it seeems like Kaepernick started a protest movement to protect his job, and Nike's going along with it.
At least America still protects free speech. He should realize that if it wasn't for the men and women who raised the flag high, he may not have that freedom.
If you ask me, I'll side with a man who sacrificed for our country.
How about you?
Source: Daily Wire