Days After Ben & Jerry's Insults America – They Suffer a Thunderbolt of Karma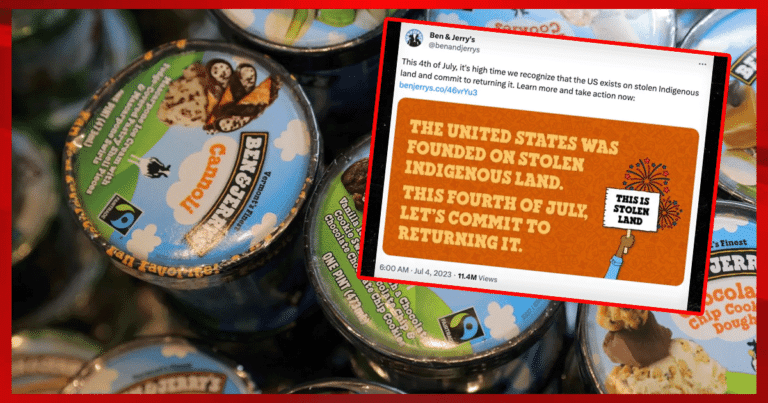 What's Happening:
No, you weren't dreaming it. Hippie-run ice cream company Ben & Jerry's scolded Americans on July 4th, claiming our country was built on "stolen land." Talk about tone-deaf. The popular ice cream brand used our nation's birthday to spread leftist hate propaganda.
Oh, and you better believe it did not go over well.
Democrats just don't seem to learn. Ben & Jerry's social media officer didn't bother to look at what's been happening to Target, Disney, or Bud Light before she (I'm assuming it was a she) posted that hateful message. And now, B&J's parent company is walking up to a harsh reality.
From The Post Millennial:
Yet another multinational corporation has seen losses in market cap after letting its subsidiaries get involved in the culture war. Unilever, the parent company of Vermont-based Ben & Jerry's, saw its stock price drop following comments made by the ice cream giant regarding Independence Day.
The stock has dipped by nearly 1 percent since the comments drew backlash from patriotic Americans.
One percent doesn't sound like much until you realize that was $2.5 billion. Unilever, the globalist company that owned Ben & Jerry's, saw its stock value go down soon after the ice cream brand insulted America.
Keep in mind, this wasn't just so liberal-minded post about "systemic racism" or "toxic masculinity." This was a post accusing the United States of "stealing" land from native tribes. On the day we celebrate the birth of our nation.
This was a clear attempt by a leftist company at tarnishing America in the minds of millions of citizens. No wonder investors fear another boycott and are causing Unilever's stock to go down.
It just might happen. Target lost billions in stock value just when a boycott was discussed. Bud Light is cratering, thanks to Americans boycotting the beer.
Ben & Jerry's is an overpriced ice cream that takes Americans' hard-earned dollars to spread social justice. A few Americans can do without giving them more money.
Key Takeaways:
Ben & Jerry's parent company losing money after its July 4th hate post.
Unilever's stock value dropped by 1 percent, amounting to $2.5 billion.
Ben & Jerry's Twitter account accused America of being built on stolen land… on July 4th.
Source: The Post Millennial