Democrat Jon Stewart Tells The Left Not To Impeach Trump, Instead Beat Him In 2020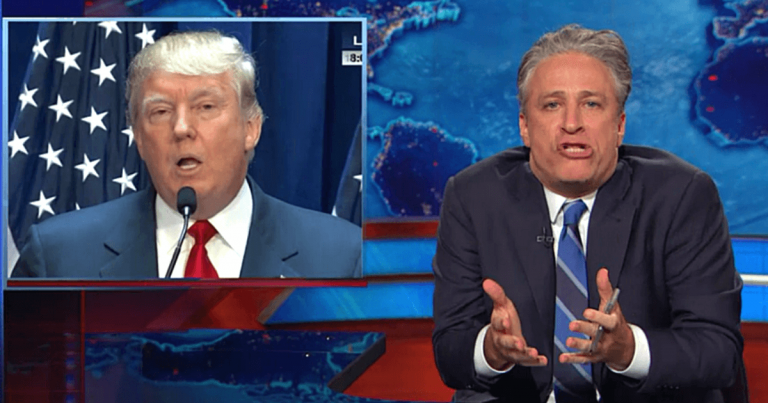 Since day one of Trump's administration, the left has been trying to get rid of him. Scratch that. Even before he entered office, democrats have tried to prevent him from becoming president.
Remember the campaign to intimidate the Electoral College? They actually had celebrities try to bully the EC from following the Constitution in confirming Trump's win. Shocking and un-American, to say the least. Then they tried to disrupt the Inauguration. Leading up to today, when idiots like Maxine Waters continues to promise impeachment.
It all proves how petty, unprofessional, and un-American most liberals are. They don't care that Trump was lawfully elected. Or how he hasn't committed an impeachable offense (unlike their idol, Bill Clinton). Liberals don't care about the great work Trump's doing, like the incredible economic numbers.
All they care about is destroying the man who is ruining their anti-American agenda.
At least one liberal is smart enough to see how impeachment talk is bad for their party. And he's speaking out.
From IJR:
Comedian Jon Stewart dissuaded people from impeaching President Donald Trump and instead encouraged them to beat him in an election with their ideas.…
Stewart argued that if Russia had helped former Secretary of State Hillary Clinton to win, the Democrats would have tried to look the other way.
However, since Trump won, "now we've got to act like it's super important," because of the possibility it could end his presidency.
"F**k impeaching the guy, f**k any of that stuff," he told the audience. "Beat him, in an election, with ideas."
That's a very reasonable sentiment, Jon. The problem? Democrats don't have any ideas. At least ideas that are good for our country.
Honestly, what ideas do liberals have for America? They are the party of obstruction. Over the last two years, all they've done is oppose Trump's America First agenda.
Democrats support and protect illegal aliens, many of which are hardened killers and rapists. They oppose Trump's plan to strengthen our national security with a wall. Also, don't forget not one democrat voted for the historic tax cuts bill.
What do democrats support? Transgender rights, including teaching kids bogus theories about gender (and letting grown men use women's bathrooms). They want to weaken our economic strength and burden Americans with taxes. Liberals put climate change before American workers.
I appreciate what Jon Stewart is saying. He's smart enough to see how liberals' call for impeachment are only hurting them. Impeachment is a stupid and petty response to Trump's win. And—if the liberals were smart—they'd try to beat Trump with better ideas.
But a party that has only crippled American strength, dignity, and morals has no ideas. None, at least, that are good for our country.
Source: IJR