Democrat Lawmaker Suddenly Switches Parties – "They Crucified Me" On 1 Key Topic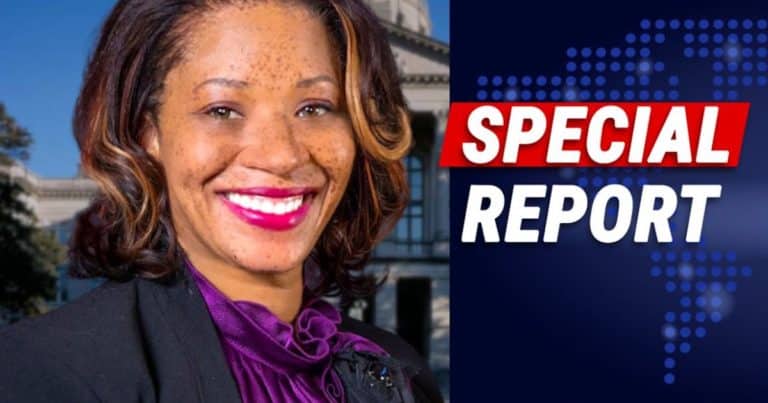 What's Happening:
Obey what they say… or pay the price.
Democrats today do not allow any disagreement with the woke ideology that controls members of the party. Any challenge is met with harsh attacks to get in line and bow to the party leadership. You must follow their narrative, or you will be cast out.
For the still rational and reasonable politicians attached to the Democrat Party, the unreasonable demands are becoming more unbearable. Each crazy claim by woke Democrats pushes good people out of the party, leaving only immoral chumps.
One Democrat has had enough and decided to jump ship:
Democratic Georgia state lawmaker Rep. Mesha Mainor represents a blue district in Atlanta and is becoming a Republican. She tweeted this week that the decision wasn't political, but a "moral one," according to her Twitter account.
Mainor stated she "will NEVER apologize for being a black woman with a mind of my own." She was clear that the Democrat party had failed her constituents and black voters overall.
From The Daily Wire:
Mainor said in an interview that she was disappointed in her Democrat colleagues for not standing by her when she "decided to stand up on behalf of disadvantaged children in support of school choice."

"They crucified me," she said. "When I decided to stand up in support of safe communities and refused to support efforts to defund the police, they didn't back me. They abandoned me."
Mainor exposed what the Democrat Party is all about – power over the people. Parents should have an open choice about how their children are educated and citizens should be provided safety through policing within their communities. Democrats condemning and attacking anyone who publicly supports those freedoms is a sick reality of the party's true nature.
More Democrats need to pull the blinders off their eyes and understand how bad this party is for the country. Mainor is a shining example of how to react when Democrats abandon their own. She is just the type of freedom-loving individual who creates fear among Democrat leaders.
As The Daily Wire quoted:
"The most dangerous thing to the Democrat Party is a black person with a mind of their own," (Mainor) later added.
Mainor will face even more criticism and outright attacks from Democrats who are nothing more than blind followers of leftist ideology. Republicans should embrace Mainor and others like her who can help lead rational people out of the darkness of the Democrat Party.
Key Takeaways:
Democrat leader takes a stand against leftist ideology in blue district.
Lawmaker Rep. Mainor was "crucified" for supporting at-risk students.
Democrat leaders face their greatest fear – people who think on their own.
Source: The Daily Wire