Democrat Leader Arrested In D.C. Protest – Police Break Out The Zip-Ties On Black Caucus Chairwoman Beatty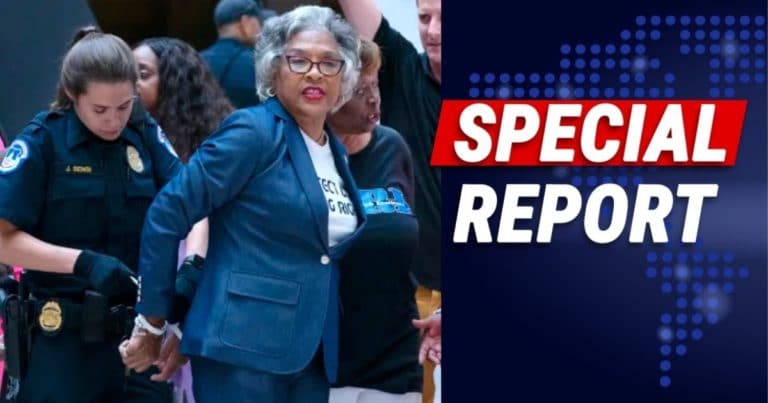 What's Happening:
It's pretty clear that Democrats will do whatever it takes to get their way. But this time, one of them got what she deserved.
We recently learned about Texas Democrats who fled the state to "protest" in D.C.
Democrats are staging bogus protests and events to oppose voter integrity laws. In their place, they want changes that would destroy our ability to hold safe and fraud-free elections.
Recently, more Democrats staged an event to demand a pair of toxic bills get through the Senate.
There's a snowball's chance in July they'll get passed. But that didn't stop the head of the Black Caucus from pulling this stunt.
So, she got arrested.
From Yahoo News:
Rep. Joyce Beatty, D-Ohio, was arrested Thursday afternoon at the U.S. Capitol while protesting in favor of voting rights legislation.

Beatty, the chairwoman of the Congressional Black Caucus, was part of a small group urging the Senate to pass the For the People Act and the John Lewis Voting Rights Act…

Less than an hour after speaking, Beatty was being zip-tied by U.S. Capitol Police, along with a small number of other protesters.
Democrat Joyce Beatty was arrested for "demonstrating in a prohibited area" outside the Capitol.
You'd think someone that works in Capitol Hill would know where she could or couldn't protest.
Something tells me she knew all along but wanted to be arrested for the attention.
Democrats know they can't stop states from passing laws to secure their election systems. After the mess that was 2020, states have no choice but to ensure voters that our democracy actually works.
Democrats in D.C. know their toxic voting "reform" bills won't get passed. So, they do what they do best: pull stunts to get attention.
Honestly, Democrats these days have more in common with spoiled brats who throw temper tantrums, than leaders of the country.
Beatty follows Jesse Jackson and other Democrats who were recently arrested in D.C. for protesting.
Obviously, the liberal media will portray Beatty's arrest as some kind of heroic stance against tyranny.
But Rosa Parks she is not. She is just one of many, entitled Democrats who want to erode our democracy to get her way.
Do you think Beatty should have been arrested for breaking the law?
Key Takeaways:
Democrat Joyce Beatty was arrested after protesting in Capitol Hill.
She and many Democrats want to stop voter integrity from being passed.
Democrats have fought to impose radical changes that would erode our elections' security.
Source: Yahoo News