Democrat Holy Grail Crashes into D.C. Roadblock – Their New Respect for Marriage Bill Stopped Far Short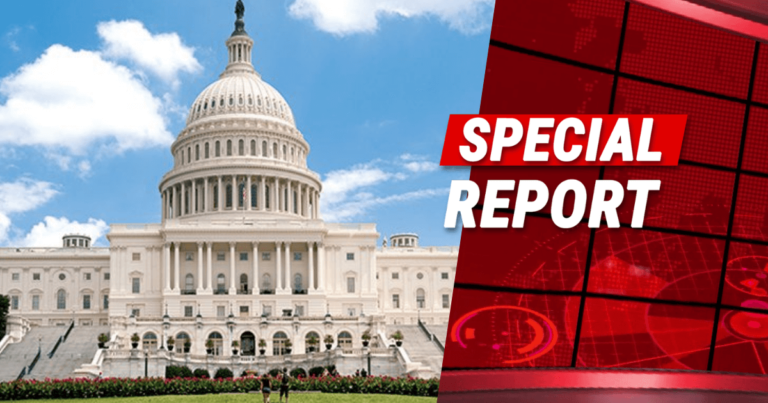 What's Happening:
Fearing what a conservative Supreme Court might do, Democrats are rushing through a bill to "protect" same-sex marriage. Their latest bill is an attempt to force states to recognize these marriages, out of fear that the SCOTUS will soon overturn Obergefell, the ruling that legalized same-sex marriage.
Many conservative critics warned that this bill does not fully protect religious Americans who object to same-sex marriage. An amendment protects religious institutions (like churches and schools) but not individuals. But it looks like the Democrats' own language in the bill could torpedo their own agenda.
From The Hill:
The bill as it currently stands would officially repeal the Defense of Marriage Act and require state recognition of legal same-sex and interracial marriages but would not codify the Supreme Court's 2015 ruling in Obergefell v. Hodges that legalized same-sex unions nationwide or prevent the high court from eventually overturning the landmark decision…

The Respect for Marriage Act requires that states recognize same-sex marriages, but does not go as far as Obergefell in requiring that states perform those marriages.
Democrats are playing with fire over this "Respect for Marriage Act." As are the Republicans who supposedly plan on supporting it. If the bill passes, it would require states to recognize same-sex marriages. But it does not go as far as the Supreme Court ruling, that required states to perform those marriages.
On top of that, the bill is being criticized for possibly violating the First Amendment rights of religious Americans. If this bill is passed and signed into law, it could quickly be challenged by conservatives. They might take it to the Supreme Court, which could overturn this law and Obergefell.
That would all happen next year when Democrats do not have enough votes in either chamber to pass another law. Progressives are already upset with this law because it does not go "far enough" to protect one of their holy grails.
But if they rush this through before the new Congress, they put all same-sex marriages at risk. Republicans are currently split on this bill. Many traditional conservatives have complained that this will not only undermine marriage but put religious Americans at risk. They are being opposed by other Republicans, who are desperate to side with Democrats to appeal to LGBT voters.
Regardless of the GOP split, this bill will hurt Democrats more than help them. The Supreme Court is in no way going to support a bill that doesn't protect the First Amendment. And it will likely overturn Obergefell, based on comments from Supreme Court Justice Clarence Thomas.
It's a lose-lose for the left.
Key Takeaways:
Democrats' same-sex marriage bill could end up destroying their goal.
The bill doesn't go as far as the SCOTUS ruling that legalized gay marriage.
If they rush the bill now and it gets overturned next year, they will lack the votes to pass another one.
Source: The Hill