After Democrat Squad Files For Impeachment – Trump Gets News Of His Approval Ratings Shift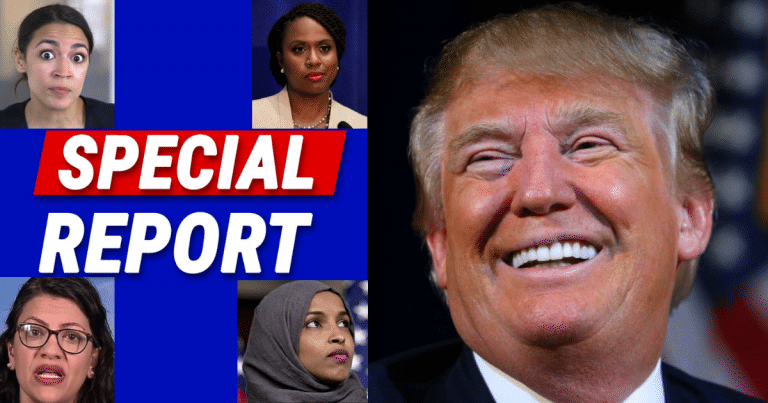 What a difference a few tweets make, huh?
Over the last few months, Democrats have tried to distance themselves from far-left members like AOC and her buddies.
Internal polls showed few Americans like Alexandria Ocasio-Cortez's terrible ideas (i.e.: the Green New Deal) or Rep. Ilhan Omar—who might as well have directly insulted the victims of 9/11.
The rest of the party had begun to turn on these "stars." But recent comments by Trump on Twitter—where he exposed these women's seeming hatred for America—forced Democrats to actually back them again.
Check out what happened after they banded together and went after President Trump.
From CNN:
Democratic Rep. Al Green of Texas on Tuesday introduced his articles of impeachment against President Donald Trump, which will force the House to take up the measure later this week.

Green's resolution is unlikely to lead to an actual vote on impeachment in the House, but he can force the chamber to act on it under House rules within two legislative days, creating a dilemma for House Democratic leaders and the moderate Democrats who have largely tried to avoid the issue of impeachment.
This isn't the first time Green introduced articles of impeachment against Trump. The last few times he tried, he failed. He thought he could get momentum after the House voted against Trump's mean tweets.
Again, it failed.

At first several people thought this would be a negative for Trump, but now it seems like that's not the case.
Maybe this was Trump's idea all along? Check it out, I think he's actually a genius.
If he can continue to cement old-time Democrats with their progressive new additions, it might do irreversible harm to the Democrats chances in 2020.
This whole thing has backfired on the Democrats.
After his "Twitter ordeal", Trump got some amazing news about his polling numbers.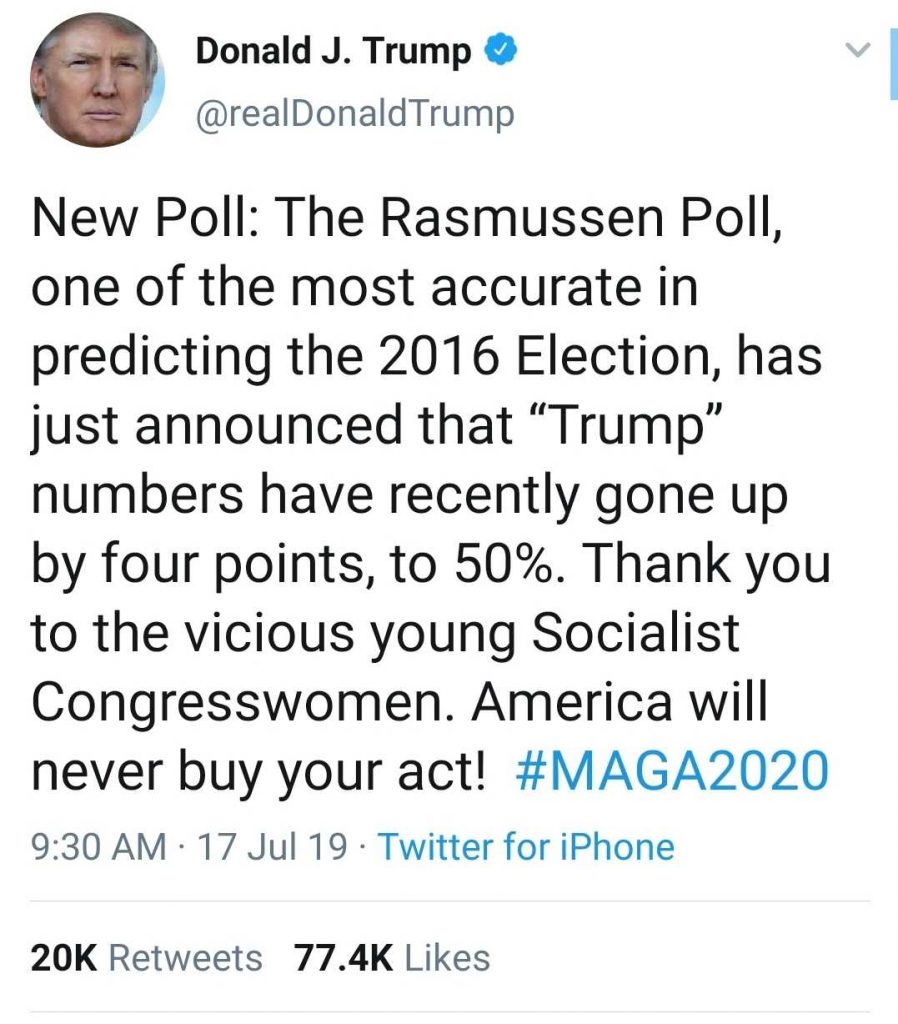 50% overall is amazing and Rasmussen is pretty accurate for polls. I love how Trump takes a moment to thank the congresswomen for the approval bump.
Things were even bigger among his own party – check this out!
From Reuters:
The national survey, conducted on Monday and Tuesday…showed his net approval among members of his Republican Party rose by 5 percentage points to 72%
Holy Cow!
I mean, I knew Trump's numbers among Republicans was high, but I didn't realize it was that high — and climbing!
72% approval. You can take that one to the bank.
The situation is getting worse and worse for Democrats. Even though AOC and her far-left buddies are very unpopular among voters, they seem to be controlling the Democratic Party.
It has led to total chaos among Democrats. Giving the GOP a chance to pounce.
It's obvious that the "squad" is ensuring the left's demise. More and more, Americans see that Democrats don't care about this country. Nor do they support our values, beliefs, and traditions.
Instead of condemning politicians who want to hurt us, Democrats are actually backing and supporting them!
It's like they don't even want to win in 2020.