GOP Knocks Out 2 Democrats with 1 Stone – They Demand 1 Top Punishment for Biden/Harris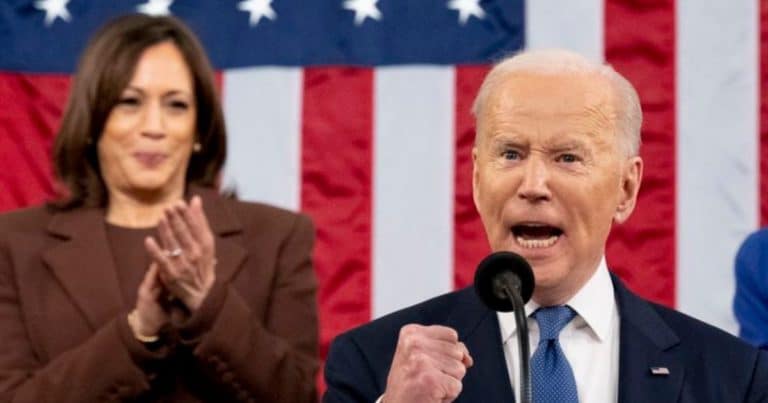 What's Happening:
Actions speak louder than words and something must be done to stop the cancerous corruption of the Biden presidency.
This man does not believe he can be held accountable for any of his criminal conduct. He continues to act against the Constitution and use the White House as his bully pulpit and federal law enforcement as his bully stick. His daft sidekick, Vice President Kamala Harris, cackles along in support of his every move.
If President Joe Biden isn't stopped the United States of America will become the next great failed state in world history.
Republicans have tried to throw up roadblocks against Biden, but this latest constitutional may have merit. Could articles of impeachment work? A novel idea within the latest articles targets two birds with one stone.
Rep. Andy Ogles (R-Tenn.) introduced articles of impeachment on Monday against Biden and Vice President Kamala Harris. He wants them both punished for crimes against the people.
From Fox News:
"Biden is a disgrace to the Oval Office and should be stripped of his position and held responsible for his high crimes against the United States" and that his "accomplice" Harris "has demonstrated her extraordinary incompetence time and again."

"She has allowed the land invasion at our southern border to continue unchecked, threatening the livelihoods of millions and the lives of thousands who have been murdered at the hands of illegal aliens and died from illicit fentanyl," Ogles said.
Ogles uses big words for a sharp point to show how Biden and Harris have worked to "shield the business and influence peddling schemes of his family from congressional oversight and public accountability."
Biden has proven unworthy, according to Ogle, by acting in a "manner contrary to the public trust and subversive of constitutional government, to the great prejudice of the cause of law and justice and to the manifest injury of the people of the United States" by creating mass chaos and illegal migration at the southern border.
Lofty claims by Ogle likely won't hold much weight in the D.C. septic tank. Most good efforts to fight back against the swamp tend to rot away and fall apart against the Washington political machine.
We can only hope that pressure from Republicans such as Ogle will keep the pressure on Biden's regime. This may offer hope to more people hidden within the swamp who can bring evidence against Biden, Harris, and their allies in federal agencies.
From Fox News:
"Joe Biden hasn't just failed the American people with his abysmal excuse for 'leadership' — he's violated his sworn oath to preserve, protect and defend the Constitution of the United States," Ogles told Fox News Digital.

"Joe Biden has repeatedly abused his position of power, both as vice president and president, to cover up his illicit family business dealings and exploitation of taxpayer resources," the Tennessee Republican continued.

"The American people know they can't depend on the so-called 'Department of Justice' to investigate the Biden family's corruption, and so it's up to the U.S. Congress to hold him accountable once and for all," Ogles added.
If Ogle and Republicans could somehow pass articles of impeachment in the House, Harris' words after the 2020 election win may take on a new meaning. "We did it, we did it, Joe," Kamala cried in 2020.
Now the American people know they are using their offices for corrupt means. We just need the stamp of impeachment to send them packing. Republicans need to show some real action here.
Key Takeaways:
Republicans lead charge to impeach the president and vice president.
Biden-Harris duo has "failed the American people" too many times.
Leaders in Congress need more action and fewer words.
Source: Fox News