California Democrat's Communist Connection Goes Public – Rep. Chu Confirmed as 'Honorary Chairman' of CCP Intelligence Service Group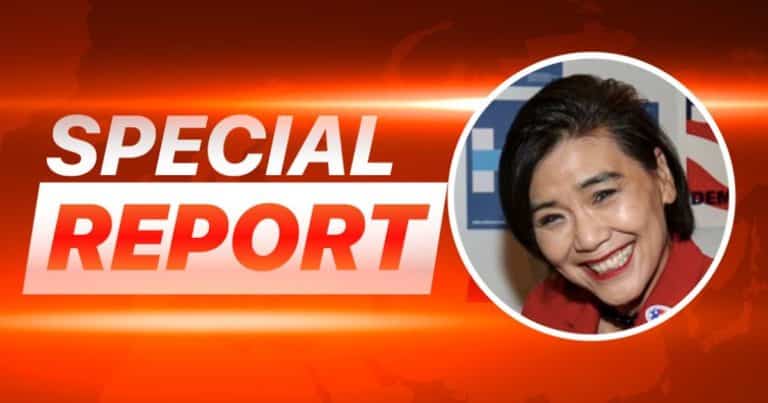 In recent years, China has become a much bigger concern for millions of Americans. The recent Chinese balloon controversy has only exacerbated matters.
On top of that, many Republicans continue to accuse many members of the Democrat party of having Communist sympathies.
But when one leader is found to have direct connections to the CCP, that's a serious issue.
In this case, it's California leftist Rep. Judy Chu, who was named "honorary chairwoman" of an alleged Communist Party intelligence group.
The group, called the Peaceful Reunification of China, is an organization that's against Taiwan's independence.
According to several reports, the U.S./China Economic Security and Review Commission (USCC) labeled the group as an "intelligence service" for the CCP.
Via The Daily Caller:
Several experts on Chinese intelligence operations confirmed that the Forums for Peaceful Reunification of China is a Chinese intelligence influence operation connected to the UFWD after reviewing Chinese government websites, USCC's report and Chinese-language news sources.

'They are the same organization,' Russell Hsiao, executive director of the Global Taiwan Institute, told the DCNF.
The organization in question is one of 33 anti-Taiwan independence organizations in the U.S., and they're "sub-chapters" of the China Council for the Promotion of Peaceful National Reunification.
Rep. Chu was named "honorary chairwoman" during the 34th inauguration ceremony of the executive committee back in 2019.
Russell Hsiao also cited a 2013 article in the People's Daily – a state-run publication – that listed the group's links to the L.A. Chinese Consulate.
Other groups in California have been allegedly tied to this organization as well.
This is the sort of connection that American citizens might have a problem with, especially with the increased tensions between the two countries.
And with more Democrats being accused of going so far left as to embrace communism, it becomes an even bigger issue.
Key Takeaways:
California Democrat Rep. Judy Chu has a tie to an alleged Chinese intelligence group.
Chu was appointed honorary chairwoman of this group, which opposes the independence of Taiwan and is part of the CCP agenda.
These connections can prove problematic with increasing tensions between U.S. and China.
Source: The Daily Caller