House GOP Just Gave Democrats a Big Christmas "Present" – Major Trouble Coming in New Year if McCarthy Can't Get Speaker Nod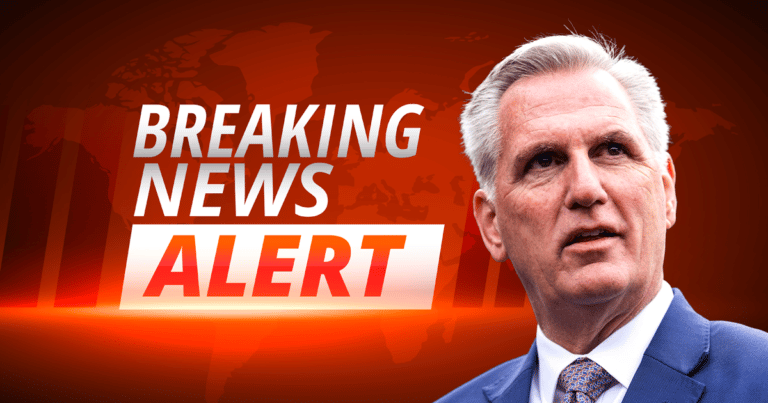 What's Happening:
As we enter the new year, the new term for Congress will begin. That means Republicans, who won a majority in the House, will be taking over. This is a big deal for the GOP and every American. Republicans can hold Biden accountable for wrecking the economy and inflicting pain on working families' pocketbooks.
But a big decision they are making right now could have a lasting impact in the years to follow. Division among House Republicans is making their future very uncertain. And top experts are warning that, if they don't unite, this will be a huge Christmas gift to Democrats and their tyrant Joe Biden.
From The Hill:
Republicans have to decide in the next several weeks whether they want to band together, support Kevin McCarthy's bid for Speaker and strengthen their hand as they plod forward in divided government — and hopefully improve their chances of keeping control of the People's House — or if they want to descend into chaos and give the Democrats back the keys to the majority kingdom…

Republican members who sit in opposition to McCarthy's nomination have to grow up. Their continued intransigence is a huge Christmas gift to the radical left.
If Republicans in the House unite and elect Kevin McCarthy as the next Speaker, they can build momentum that will take them all the way to 2024. But a small group of House Republicans is defying McCarthy's bid–even though he has been considered the frontrunner for years.
Experts are warning that this in-fighting and possible breakdown of the Speakership process will be a huge gift to Democrats. If Republicans can't unite behind McCarthy, they will waste the next two years. Biden will be left unchecked. He will continue to spin failures as successes, building a case for re-election in 2024.
Americans will have little reason to give Republicans control of Washington if they can't get their act together now. Remember the 2022 midterms. Republicans thought they'd ride a red wave, just because Biden was failing. They didn't unite under a strong message that could motivate voters.
The same problem lingers now. House Republicans who undermine the Speakership process could end up putting an unqualified person into that seat. Or worse, Democrats can use this rift to put someone they like in the Speakership role.
House Republicans need to get their act together now–or else…
Key Takeaways:
House Republicans might be giving a "gift" to Democrats over the Speakership fight.
A few Republicans oppose Kevin McCarthy's bid, putting the next 2 years in jeopardy.
Republicans need to unite to secure big wins in 2024, but in-fighting will spoil that.
Source: The Hill