Alan Dershowitz Drops His Impeachment Gavel – He Just Argued The House Manager Case Failed To Meet Standard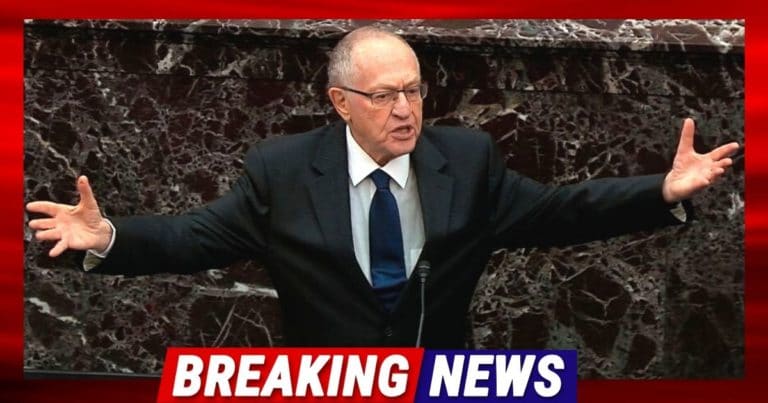 Donald Trump has many heavy hitters in his corner, but perhaps none as effective as Alan Dershowitz.
The Democrat might not agree with most of Trump's policies, but he cares too much about our Constitution to sit this out.
He's fought tooth and nail for the president since impeachment started. And he's not about to let the law of the land get thrown out over politics.
His latest statement about the left's case against Trump should have every Democrat worried.
From Breitbart:
Dershowitz said, "Even if the factual allegations are true – which are highly disputed and which the defense team will show contrary evidence — but even if true, they did not allege impeachable offenses. So there can't be a constitutionally authorized impeachment."
Wow. Dershowitz really brings the heat when he says the charges Democrats have against Trump do not amount to impeachable offenses.
He makes the case that a president can only be impeached and removed from office over "high crimes and misdemeanors."
That word "crimes" is pretty important.
Dershowitz blasts the Democrats to Kingdom Come when he says their two charges "obstruction of Congress" and "abuse of power" are not legal crimes.
He argues they are political, and he says those are precisely the arguments that the framers of the Constitution rejected.
It's very easy for an opposing party to accuse a president of "abuse of power." After all, anything a Republican president does seems to be against the Democrats' agenda.
They don't want him in office, after all. It would be easy for them to accuse a president of "abuse of power," without pointing to a specific crime.
And many have argued "obstruction of Congress" is not a crime. Trump appealed to the courts to prevent the House from getting their hands on sensitive information, and the House rejected this Constitutionally approved recourse for disputes between branches.
Many presidents have done this. How can Trump be impeached over that, but no president before him?
Dershowitz is arguing Constitution set impeachment standards very high, precisely so partisans could remove an elected leader from office.
And so he is saying Democrats seem to be ignoring our very laws and values as a nation, just to prevent Trump from winning 2020.
Dershowitz can see it—and he wants the rest of America to see what's going on, too.
SHARE if you agree the Democrats have failed to prove impeachable offenses!
Source: Breitbart