DeSantis Campaign Might Be In Deep Trouble – Ron's Latest Surprise Move Is a Big Red Flag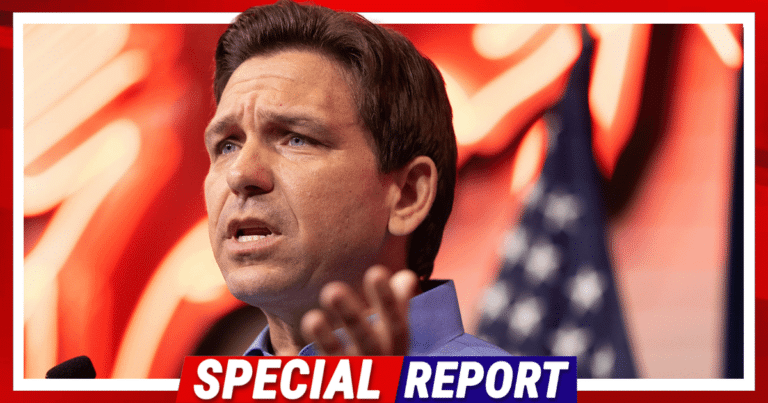 What's Happening:
Just a few months ago, Ron DeSantis appeared to be the future leader of–not only the GOP–but of the Free World. Trump seemed to be fading and more and more Americans wanted DeSantis to take up the reins. He did amazing things in Florida, even during COVID, and it looked as if he could take those string of successes to the White House.
Then, Democrats indicted Trump twice.
The shocking and egregious attacks from the left against Trump helped Republicans rally around the former president. Trump's polling skyrocketed after Democrats launched these attacks. It seems DeSantis had no way of combatting this turn or regaining the spotlight. Despite heavy donations from big backers, he was forced to make this big change.
From NBC News:
Ron DeSantis' presidential campaign has fired roughly a dozen staffers — and more dismissals are expected in the coming weeks as he shakes up his big-money political operations after less than two months on the campaign trail…

The exits come after the departures of David Abrams and Tucker Obenshain, veterans of DeSantis' political orbit, which were first reported by Politico.
Uh-oh. It's never good when a campaign has to shed staffers. Despite having big donors funding his campaign, DeSantis had to fire at least twelve of his mid-level workers to "cut costs." That's not good only two months into the campaign.
Now, these moves might help the campaign stay lean and mean, keeping it alive until the primaries heat up next year.
According to some sources, donors are upset that DeSantis's numbers aren't going up. Trump is dominating the conversation. At this point, the Florida governor should be gaining momentum. Instead, he appears to be losing it.
Nobody can predict the future. Anything can happen between now and when voting starts. But Trump has such an advantage at the moment, that DeSantis should be worried. Shedding workers might save him some money, but what is he going to do to win back voters and keep his campaign alive?
Key Takeaways:
Ron DeSantis fired at least twelve of his campaign employees after only two months.
The campaign appears to be making drastic moves to save money.
DeSantis seems to be losing momentum, as Trump continues to dominate.
Source: NBC News