DeSantis Unveils Nation-Shaking Border Plan – Ron Will Do 3 Things Every Proud Patriot Will Support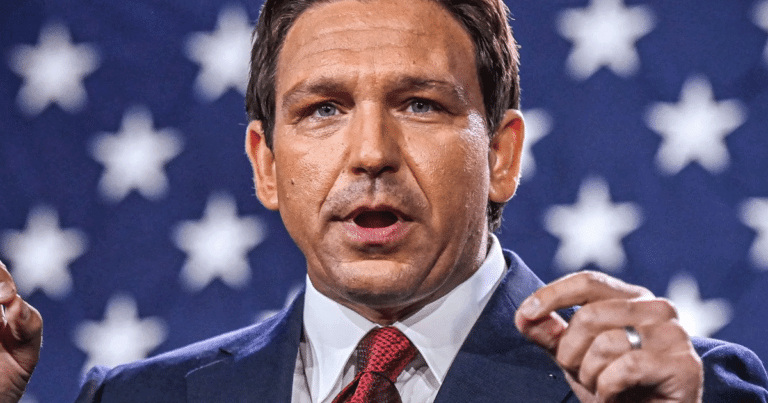 What's Happening:
Anyone looking for a free ride in this country has been put on notice.
For decades foreigners have believed that the United States is nothing more than a cash machine for anyone who steps foot on U.S. soil. But anyone wanting to come to the United States should understand, respect, and follow the laws of our sovereign nation.
Every politician for too long has barked about how they will do something to secure our borders.
Now one contender made it clear this week that his plans start on day one in office. Republican Florida Governor Ron DeSantis wasn't mincing words at the annual "Roast and Ride" GOP event in Iowa.
From The Daily Wire:
"I've heard, as a Republican, talk about this southern border for years and years and years," DeSantis said. "I will finally be the president to bring this issue to a conclusion."
DeSantis put lawbreakers on notice that he has a simple three-step plan to end the immigration issue:
"We will shut the border down," he said. "We will build a border wall. We will end mass migration into this country."
Those are the leadership words many people want to hear heading into the election next year.
Proud patriots are sick and tired of seeing images of thousands and thousands of illegal immigrants regularly crossing the southern border. They are even more exhausted by politicians not solving the problem.
What's worse is many of these images clearly show that these are not desperate families. Most of these lawbreakers are young men looking to take advantage of free services in this country.
Many people coming into the country illegally are in service to criminal organizations hell-bent on wrecking the U.S. economy.
DeSantis also sent a message to criminal enterprises south of the border:
"And we will hold the Mexican drug cartels accountable for the carnage they have unleashed on the American people," he said.
That would be a welcome treat for citizens weary of the crimes inflicted on this country by these criminal regimes.
Patriotic Americans are looking for strong leadership in their next president. The field of contenders grows each week and voters will have a selection of candidates.
Voters will be watching as DeSantis and the field of GOP prospects navigate a long election road.
Time will tell if DeSantis is all bark or if he can carry through the election cycle and make things happen… if he gets to lead the country.
Key Takeaways:
DeSantis vows to stop the invasion through the southern border.

His three-step plan is a harsh halt to illegal immigration.

Drug cartels are put on notice that their reign will end.
Source: The Daily Wire