DeSantis Just Gave Florida a New Slogan – The Republican Governor Sends a Strong 3-Word Message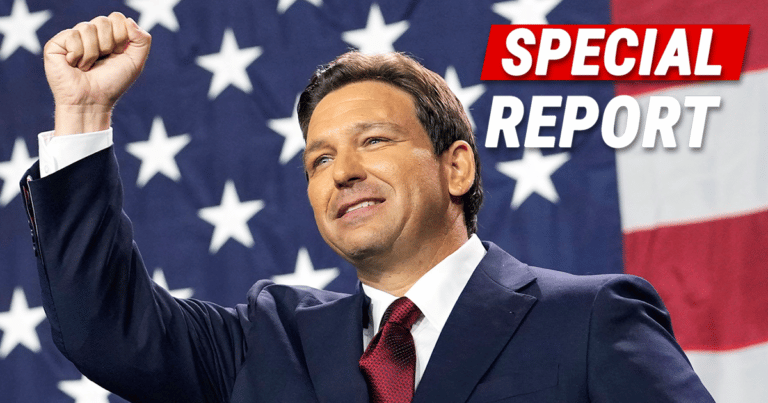 Florida Governor Ron DeSantis is one of the most popular leaders in the country, on either side of the aisle.
The former congressman and U.S. Navy veteran didn't just win his re-election — he crushed his Democrat opponent Charlie Crist, as DeSantis garnered almost 60 percent of the vote.
DeSantis officially began his second term on Tuesday, and he sent the Sunshine State a very strong message.
In his inaugural address, DeSantis listed his administration's successes, which included lowering taxes for Florida citizens, education reform, and "appointing jurists who understand the proper role of a judge is to apply the laws written."
The Republican leader also ripped Washington for making these victories even more difficult; DeSantis and President Joe Biden have frequently butted heads.
DeSantis delivered this speech while standing at a podium with three words written clearly: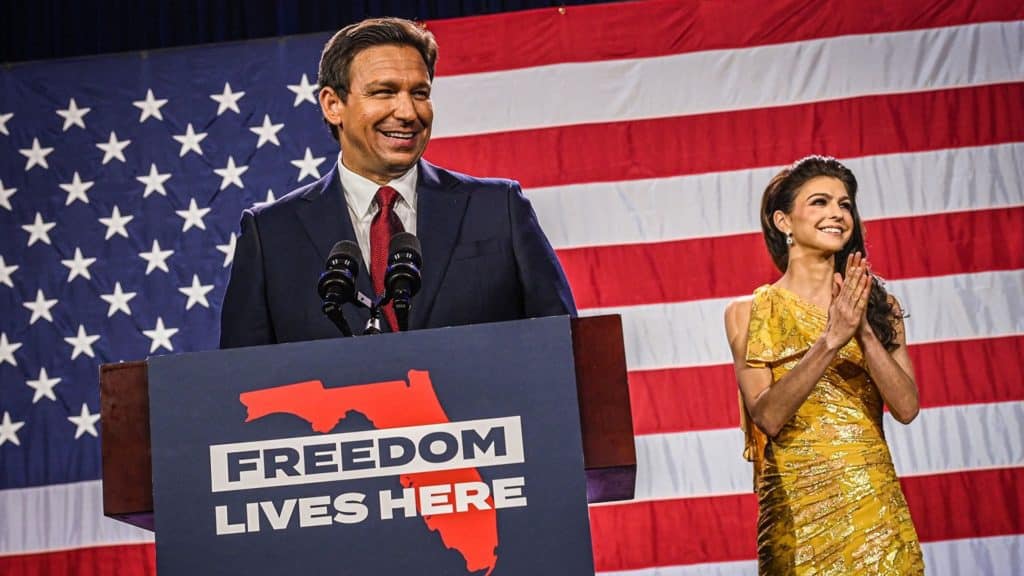 "Freedom Lives Here"
As the Governor said (via The Daily Wire):
Over the past few years, as so many states in our country ground their citizens down, we in Florida lifted our people up.

When other states consigned their peoples' freedom to the dustbin, Florida stood strongly as freedom's linchpin.

When the world lost its mind, and common sense suddenly became an uncommon virtue, Florida was a refuge of sanity, a citadel of freedom for our fellow Americans and for people around the world.
While several Democrat-run states saw their populations decline again in 2022, Florida was one of the red states that saw a marked increase.
The Sunshine State saw an annual population jump of nearly 2 percent. And according to the Census Bureau's Kristie Wilder, this is the first time since 1957 that Florida saw the "largest increase in population" in the country.
Gov. DeSantis pulled no punches in going after the federal government:
He said they've "eroded freedom and stunted commerce," and "recklessly facilitated open borders making a mockery of the rule of law."
Lastly, the GOP star slammed the "woke" agenda in the country, and said it "rejects merit and achievement, and advocates identity essentialism:"
We reject this woke ideology. We seek normalcy, not philosophical lunacy.

We will not allow reality, facts, and truth to become optional — we will never surrender to the woke mob. Florida is where woke goes to die.
Currently, DeSantis hasn't confirmed that he'll run for President in 2024, though many are hoping he will.
Millions of citizens think he's the best chance of taking control away from Biden and the Democrats, and is a better option than former POTUS Donald Trump. But for now, DeSantis remains silent on the issue.
Even so, it remains clear that he's pushing hard for Florida to become a bastion of conservative and American values.
Key Takeaways:
Florida Gov. Ron DeSantis officially began his second term, and gave his speech above a podium with the slogan: "Freedom Lives Here."
DeSantis cited a long list of accomplishments, and said Florida "was a refuge of sanity."
The popular GOP leader said the state "will never surrender to the woke mob."
Source: The Daily Wire