Ron DeSantis Makes 1 Promise To Our Military – And It Would Reverse a Major Injustice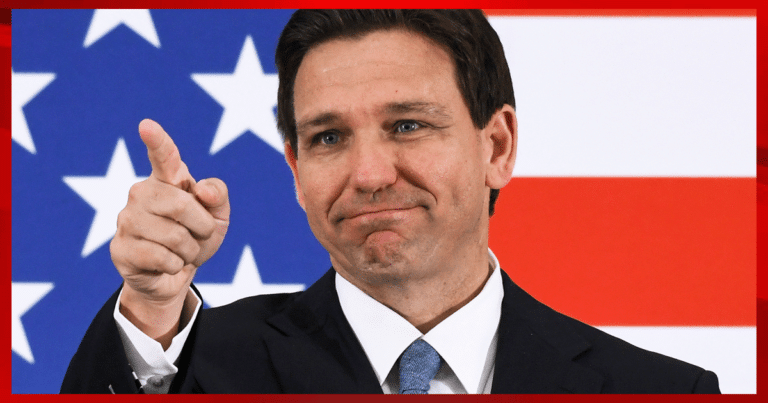 What's Happening:
Since his election in 2018, Ron DeSantis has been wowing residents of Florida.
He's been so successful, in fact, that he managed to turn a "swing" state into a solid red one. He won re-election last year by a landslide, which has many wondering what he could do for the entire country.
DeSantis announced his presidential campaign earlier in the summer, though he isn't the frontrunner currently.
But that hasn't stopped him from declaring war on the "woke" as Florida governor, and it seems he has plans to do the same across the country if elected president.
For example, the outspoken GOP leader recently discussed a horrible policy that kicked many of our soldiers to the curb — and now he's vowing to correct this foolish error.
From The Washington Examiner:
Gov. Ron DeSantis (R-FL) vowed that, if elected president, he would welcome back all service members who were kicked out of the military under President Joe Biden for refusing to receive the mRNA vaccine for COVID-19…

'That mandate was a mistake' and 'was not based on scientific data,' according to DeSantis.

'Military personnel who meet standards were, probably, at close to zero risk of significant COVID to begin with,' he said.
Ron DeSantis promised to welcome back all troops who were kicked out under Joe Biden's vaccine mandate, and that's long overdue.
The presidential candidate blasted Biden for pushing a mandate that was "not based on scientific data," and said that young men and women who served faced "zero risk" of COVID complications. Meaning, the vaccine mandate was utterly unnecessary and foolish.
Over the past few years, DeSantis has been a vocal challenger of the left's radical COVID narrative.
He previously held a roundtable with leading medical experts who refuted Biden's demand that all Americans had to get the vaccine; at the time, they even asserted that the risks for most far outweighed the benefits.
Yet Biden had no problem demanding our soldiers get a new, experimental, irreversible medical treatment–or get kicked out of the Armed Forces.
At a time when the military is struggling to recruit, this genius was getting rid of good men and women.
Thankfully, DeSantis wants to bring them back. And, if elected president, he would surely sign an executive order that would encourage those troops to return.
Key Takeaways:
Ron DeSantis vowed to bring back service members who were kicked out over Biden's COVID mandate.
DeSantis called Biden's mandate a "mistake" and was not "based on scientific data."
The Florida governor had previously challenged Biden's COVID agenda.
Source: The Washington Examiner