DeSantis Just Picked Up a Major Victory – This Instantly Boosts His 2024 Chances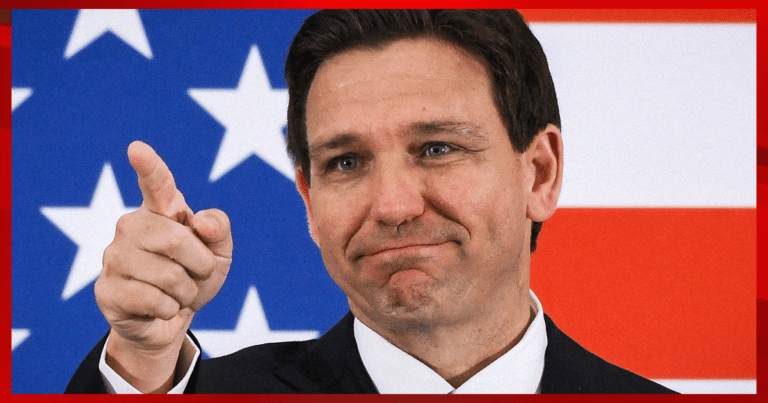 What's Happening:
The Republican presidential primaries are only heating up. In the coming months, there will be debates, rallies, and events. Anything can happen and chances are, things will take dramatic turns as we get closer to 2024.
Many believe that Donald Trump has the nomination in the bag. But it's clear the former president fears Ron DeSantis, the Florida governor who won re-election by a landslide. Despite what some polls are suggesting, DeSantis is traveling across the country to win over Republicans. And he just scored the first of what could be several big wins.
From Just the News:
Florida Gov. Ron DeSantis received his first endorsement for the Republican presidential primary from a fellow governor with Oklahoma Gov. Kevin Stitt.

"Governor DeSantis is a strong conservative and principled leader, and I am proud to endorse him for president," Stitt, a Republican, said Saturday before a crowd in Oklahoma at an event with DeSantis.
The Republican governor of Oklahoma, Kevin Stitt officially endorsed Ron DeSantis for president. He is the first Republican governor to get behind DeSantis. Trump currently has the endorsements of two Republican governors, Henry McMaster of South Carolina, and Jim Justice of West Virginia.
Gov. Stitt praised DeSantis's accomplishments, calling him a "proven leader" who has "delivered results" for Florida. DeSantis was governor during the 2020 pandemic. He was one of the first governors to end lockdowns and return his state to normal.
Despite overwhelming opposition from the liberal media (and then-President Trump), DeSantis kept his state open. Florida has become so prosperous, that countless Americans are relocating there (including former President Trump).
Stitt is the first Republican governor to endorse DeSantis. But he might not be the last. DeSantis is clearly a leader among GOP governors. He has often trailblazed, where others quickly followed. He has gone to war with the woke left and Joe Biden, scoring wins for conservatives.
He's even fighting the war along the border, sending troops and resources to Texas and Arizona.
Key Takeaways:
Oklahoma Gov. Kevin Stitt endorsed Ron DeSantis for president.
Still called DeSantis a "proven leader" of the state of Florida.
Still is the first governor to officially endorse DeSantis.
Source: Just the News