Days After Disney's Wokest Move Yet – Ron DeSantis Drops His Special Session Hammer on the Mouse House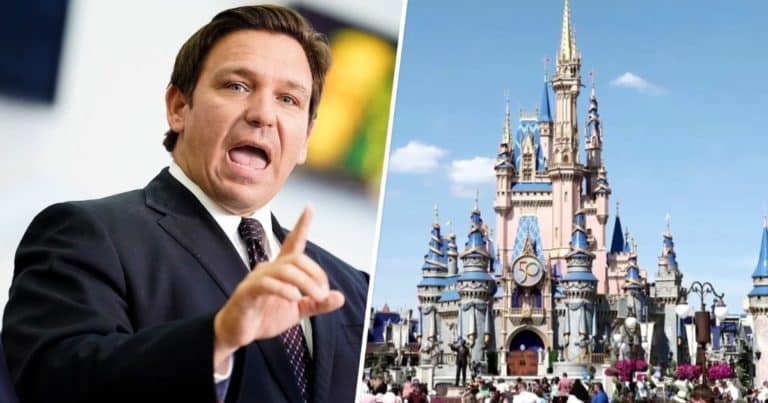 What's Happening:
Americans were shocked over recent years, as formerly family-friend Disney "went woke." The Hollywood studio has openly revealed its anti-America, pro-socialist, pro-LGBT agenda. And despite falling numbers, the company continues to push this agenda.
Recently, one of its CEO made a shocking announcement.
From The Conservative Brief:
Recently, a key Disney heir announced that his child is transgender, and the firm's CEO said that she is the "mother of two queer children — one transgender child and one pansexual child."
Yes, I'm sure those children decided that for themselves and were in no way coerced by their leftist parents. But that's only for starters. Disney released a new series featuring well-known black characters from the "Proud Family."
But this series revival featured an entire episode spreading misinformation about America's founding. And pushed critical race theory.
From The Gateway Pundit:
In one of its upcoming episodes, "Juneteenth," 14-year-old Penny and her friends decide to learn more about Juneteenth's importance in her fictional town of Smithville, California. After digging deeper into Smithville's history, they discover that the city's founder was a slave owner.
Not only this, but the show blatantly slanders America saying "slaves built this country," among other lies commonly spread by BLM and other leftists.
This is a scene from a Disney+ kids cartoon called The Proud Family

Blatant anti-white propaganda pic.twitter.com/3mJT7jbvEr

— End Wokeness (@EndWokeness) February 5, 2023
Well, it looks like the state of Florida has had enough. Disney's been enjoying special privileges in the state for years, meanwhile they poison young Americans' minds. So the governor made a big announcement.
From the Miami Herald:
Gov. Ron DeSantis said lawmakers will return to Tallahassee as soon as next week to continue his fight against The Walt Disney Co…
During a news conference Thursday in the Panhandle town of Milton, DeSantis said lawmakers will get rid of Disney's control over the Reedy Creek Improvement District, a special taxing district legislators gave to Disney in 1967.
Gov. DeSantis revealed that Disney will no longer have self-governing status over the land on which Disney World is built. This could have profound ramifications for the company, which is suffering financially after going woke.
Florida plans to revoke Disney's control over Reedy Creek. This could result in taxes, fines, and other fees hitting Disney. They will lose power over that land, giving it back to the people of Florida.
How will Disney respond? They can't afford to dump Disney World and move somewhere else. To do so would mean the loss of billions for the company. But the reality is, Disney has become so woke, it just might do that.
The radical left seems to care more about spreading their mind-boggling worldview than doing what's best for America. And Disney could shut down Disney World just to spite DeSantis. But, in the end, it will only end up hurting itself—as more Americans ditch Disney for good.
Key Takeaways:
Disney continues its woke campaign, spreading critical race theory in a new kid's show.
Florida lawmakers will soon revoke Disney's control over Reedy Creek, the land on which Disney World is built.
Disney has been suffering in recent years, as Americans stop supporting the leftist company.
Source: The Conservative Brief, The Gateway Pundit, Miami Herald