DNC Chair Compares Biden Evidence To Clinton's – Claims They Are "Like Hillary Emails Because There Was Nothing There"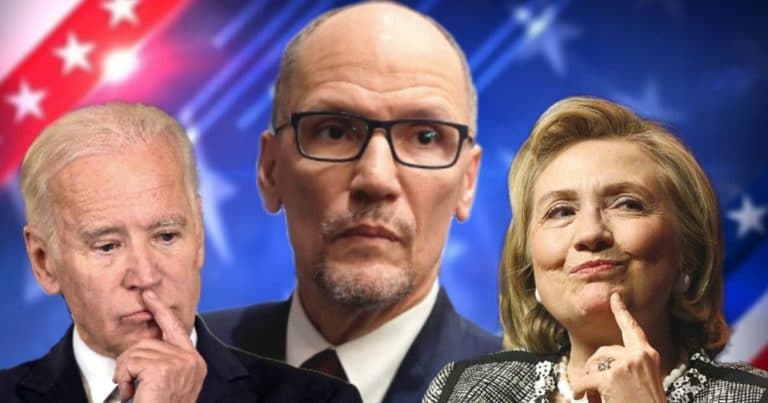 Americans are turning up the heat on Joe Biden and the allegations against him. Even some liberal outlets have demanded answers.
As you can expect, the Democratic Party is responding with the usual denials. It seems, despite their past support of the #MeToo movement, they are unwilling to believe Tara Reade.
Now, DNC Chairman Tom Perez is taking it one step further. He actually compared this scandal to Hillary Clinton's most infamous fumble.
From Washington Examiner:
Democratic National Committee Chairman Tom Perez compared the allegation that Joe Biden sexually assaulted a former staffer to Hillary Clinton's use of a private email server.

"This is like the Hillary emails because there was nothing there," he told ABC's This Week on Sunday, trying to downplay both matters.
Woah, Perez, slow down! There are so many things wrong with what you said, I need to keep up.
Perez compared Biden's allegations to Hillary Clinton's email server. He said there was "nothing there," to the server that sparked an FBI investigation.
Wow. Where do I start? Does Perez not remember Clinton's email scandal? The former Director of the FBI appeared on TV to say Clinton was "careless" for using a private server.
Technically, what she did was unlawful, as government messages are not allowed to be transmitted/stored on a non-government server.
Many believe that her unsecured server led to the massive data breach that leaked thousands of emails to the public. It was many of those emails that exposed questionable statements from Clinton and her campaign people.
You could say that her email server was a major factor in her loss. But sure, there was "nothing there."
Some Americans still demand answers from Clinton's email server, including the 33,000 emails that she deleted.
Regardless of what you believe about her server, it was far from "nothing." In fact, it was a great big something.
It appears that Perez inadvertently emphasized the importance of the allegations against Biden. By comparing it to a major issue that plagued Clinton's campaign!
Is Perez predicting this scandal will end up sinking Joe Biden? Not sure. But I can't think of a worse comparison to make.
SHARE if you want Biden's files—and Hillary's—made public.
Source: Washington Examiner