Peter Doocy Hits Biden With Border Accusation – He Asks If Joe Has Ever, In 50 Years, Visited The Southern Border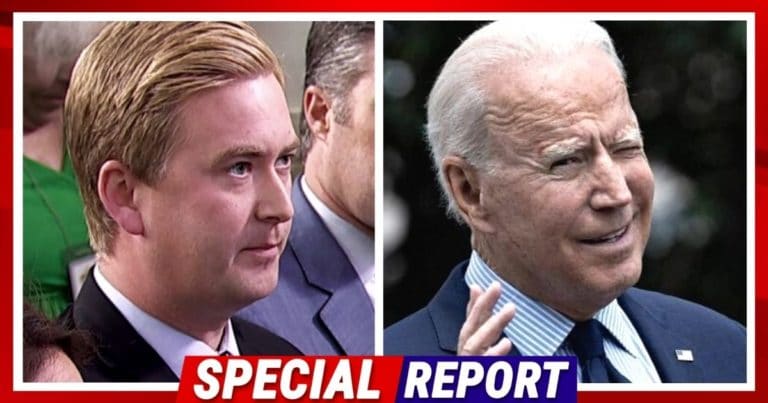 What's Happening:
The crisis on the border is not getting better. This last week, we've seen it reach new lows we never thought possible. All because Joe Biden has refused to do anything to make the problem better.
What's even more shocking is how Biden continues to ignore the situation. He refused to address it or even answer questions about it. This sparked one reporter to ask if Biden is even aware of the situation. Has he even been to the border?
This is how the White House reacted. From Fox News:
Psaki was asked by Fox News' Peter Doocy during her daily press briefing if the president had "ever been to the southern border" during his nearly 50 years in public office.

"I will have to look back in my history books and check the times he's been to the southern border," Psaki said.

"We have been looking all morning," Doocy said, "and we have not found any record of him visiting the border as president, vice president, senator, or even as a concerned citizen."
Doocy hammered White House press secretary Jen Psaki with the news that Biden has never visited the border. The rude and dismissive secretary insulted Doocy by saying she'd have to check her "history book." But Doocy had done it already.
There seems to be no public record Biden has ever visited the border. Not as president, vice president, senator, or even a citizen. Doocy pressed for word from the White House if Biden ever has—and they just missed it? Of course, Psaki had nothing to say.
All she could do is deflect from the answer that the "situation" (she refuses to say crisis) is the result of a "broken system." Yeah, a system Biden broke. Things were under control when Donald Trump was in charge.
Biden went out of his way to make the border a warzone. Doocy raised a good point. Biden, like others before him, often visits scenes of disaster to assess the situation and make an informed decision. He did it recently, after a hurricane ripped through the country.
But Biden refuses to visit the border, where hundreds of thousands have tried to invade the country. Why not? We know he dumped this problem onto Harris and Mayorkas. They've done a terrible job. At the very least, he should fly down to Texas or Arizona to see for himself.
Psaki didn't have an answer, because she knows Biden never visited nor does he plan to.
Even later on, Doocy revealed they hadn't given an answer:
Perhaps if Americans pushed hard enough, Biden would be forced to face his mess?
Key Takeaways:
Peter Doocy pressed the White House over whether Biden ever visited the border.
Psaki refused to answer, blaming the crisis on previous administrations.
It appears Biden has never been to the border in his long history as a politician.