Dr. Phil Gives Fetterman His Health Grade – McGraw Rocks Pennsylvania Race by Telling the Candidate 'Hell No'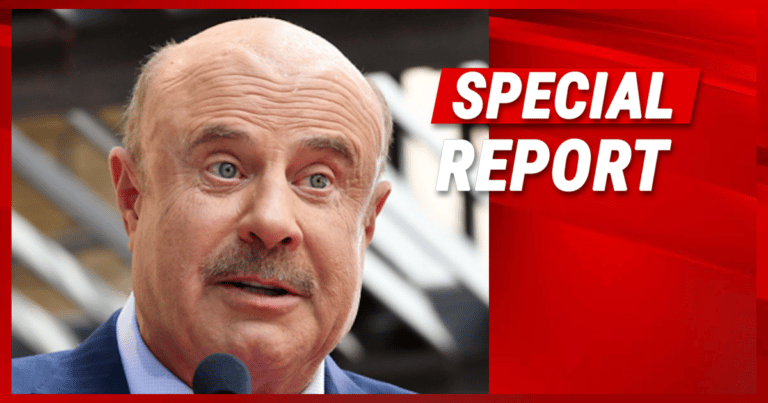 What's Happening:
Democrat John Fetterman was considered a shoo-in for Pennsylvania senator just a short time ago. The media had a field day riddling his Republican rival with accusations and slanders. But all that changed when the two when head-to-head in a debate recently.
Fetterman, who recently suffered a stroke, had a terrible night. Even liberal pundits could spin his performance as a win. His meltdown has helped Republican Oz in a neck-and-neck race for the Senate. Now, famed celebrity psychologist Dr. Phil is weighing in on Fetterman's health.
And he pulled no punches.
From Breitbart:
McGraw noted he has not tested Fetterman or President Joe Biden, but he said it seemed to him "President Biden is not at his best and that Fetterman is not at his best."

"And I'm not trying to be unkind. He had a stroke," McGraw explained. "I mean, the poor guy, he had a stroke."

"Just ask yourself," McGraw added, "Let's say you were getting on an airplane and the airline pilot had had a similar cognitive impairment. Would you get on? Well, hell no."
Ouch. While on Joe Rogan's show, Phil McGraw talked about Fetterman's performance during his debate with Mehmet Oz. Dr. Phil admitted he hasn't "tested" Biden or Fetterman, but he clearly didn't like what he saw.
Dr. Phil pointed out that if you saw Fetterman was your pilot, would you get on that airplane? "Hell no" was his response. And a pretty fair and honest response it was. Fetterman appeared confused, disoriented, and lifeless during the debate. He couldn't put together a simple sentence.
You wouldn't want a man in his condition flying a plane, would you? Then why should we be fine with him in the Senate? We really have to ask why Democrats sit back and ignore this man's obvious struggles.
He doesn't appear to have recovered from his stroke. He might never recover. Why should voters put a man in his situation in the Senate? Perhaps Democrats, so desperate for power, don't care if one of their senators is cognitively impaired.
Heck, all that matters to them it seems is securing a majority. They'd be happy with a sack of potatoes in that seat–as long as it voted with the party.
But that is not remotely acceptable for Americans. It doesn't matter what the liberal media says to protect Fetterman. Anyone who watches him knows something's not right. Why should we vote for him?
Key Takeaways:
Phil criticized John Fetterman's mental health during a segment on Rogan's show.
McGraw asked would you want Fetterman flying your plane? He answered, "Hell no."
Fetterman has appeared not to recover from a stroke he suffered over the summer.
Source: Breitbart