Democrat Dick Durbin Crosses The Line – Video Catches Him Calling Black Republican's Reform Bill 'Token'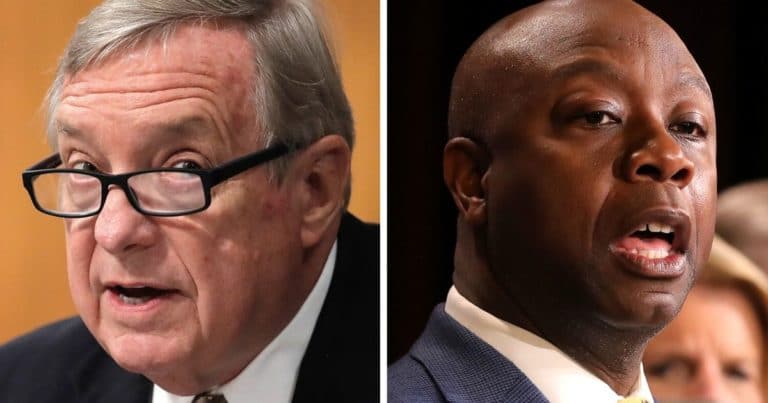 It's a common refrain among Democrats that they are the party for black Americans, while Republicans only care about white people.
Apparently, there were zero Republicans who supported the Civil Rights movement (see: President Eisenhower and Sen. Richard Nixon).
And today, only Democrats claim to be able to help minorities.
Despite that, one of three black senators, Republican Tim Scott, is spearheading the police reform bill in the Senate.
He is working to craft a solution that can be embraced by both parties. But this is what the second most senior Democrat said about it:
Sen. Dick Durbin (D-IL), the second-ranking Democrat in the U.S. Senate, took the Senate floor on Wednesday to dismiss the JUSTICE Act police reform bill presented by Republican Sen. Tim Scott, who is African-American, as a "token" bill.
Senate Minority Whip Dick Durbin (Democrat, Illinois) pushed a racist dog whistle on the Senate floor this morning, using the word "token" while discussing the Sen. Tim Scott led bill on police reform. pic.twitter.com/dvrNpfBpkE

— Steve Guest (@SteveGuest) June 17, 2020
Why would some find this comment be offensive?
Despite the ongoing outcry by Americans for police reforming since George Floyd's death, Congress has been slow to act. President Trump passed historic reform via executive order.
House Democrats, however, produced a deeply-partisan bill, refusing to seek input from a single Republican, which effectively meant it would not get to the President's desk.
Scott, on the other hand, has been working closely with senators to produce a solution that pleases everyone.
Yet Durbin quickly dismissed his efforts, using a term that is often associated with discrimination.
Republicans were quick to call out the senators' actions. Even though Democrats often call themselves that supports black Americans, Durbin is criticizing the actions of a black senator—and insulting it to boot.
Scott himself responded, pointing out the irony of the situation: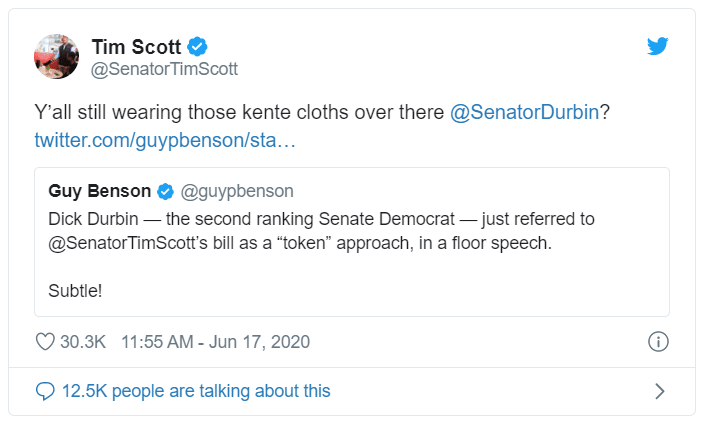 Recently a fact-checker at USA Today pointed out that the kente cloth was often worn by rich Africans who participated in the slave trade. Many in the media already panned their pandering, and the meaning behind them made it worse.
What Durbin's comments produce, however, remains to be seen. Sen. Scott appears determined to pass his bill, with support from both Republicans and Democrats.
Key Takeaways:
Republican Sen. Tim Scott is working on bipartisan police reform.
Democrat Dick Durbin dismissed the bill, calling it a "token" bill.
This comes as Democrats try to win over black supporters in the aftermath of nationwide protests.
Source: Daily Wire