Elderly Woman Looks Lonely, So 3 Men Join Her- Then They Learn Her SHOCKING Secret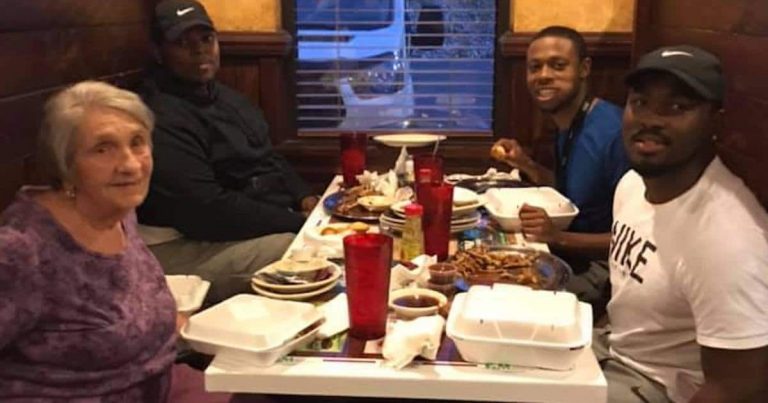 They had NO idea what she was about to tell them…!
Kindness and chivalry are NOT dead, it seems!
Just ask Eleanor, a senior citizen in the great state of Alabama.
She was eating dinner alone one evening when suddenly, three men came up and asked to join her.
One of the men, Jamario Howard, simply said he'd "hate to eat by himself," and thought the woman could use some company.
His two friends joined him and the unlikely quartet got to talking.
They chatted about Eleanor's grandchildren and the volunteer work she does at the local hospital.
Then she dropped a bombshell … as it turns out, that night was the eve of a heartbreaking anniversary for Eleanor.
Her husband had passed away and the next day, April 19, would've been their 60th wedding anniversary.
Well, the men were just flabbergasted!
They knew, right then and there, that they made the right decision approaching her table.
And when they learned the truth, they knew they couldn't let Eleanor be alone for dinner!
It really was an eye-opening experience for the men; as Howard said:
"It was a good in-the-moment thing.

It really changed our outlook."
I bet it did! That's quite the story!
And many others agree, as Howard's Facebook post about the event has been shared nearly 70,000 times already!
Plus, there are thousands and thousands of comments, just about all of them saying how much they appreciated this tale.
And Howard concluded by simply saying:
"Always be kind.

It can go a long way for you and a long way for them."
That right there is a life lesson that EVERYONE should learn. Don't you agree?
And this meeting was the catalyst for a future friendship, too, as Howard has already visited Eleanor several times since that fateful dinner.
This is my favorite inspiring story of the week, that's for darn sure! 🙂
SHARE to spread the good vibes generated by such a wonderfully positive story!
Source: Today