Conservative Group Publishes Mail-In Voting Report – The Dangers Can Go Beyond Just Fraud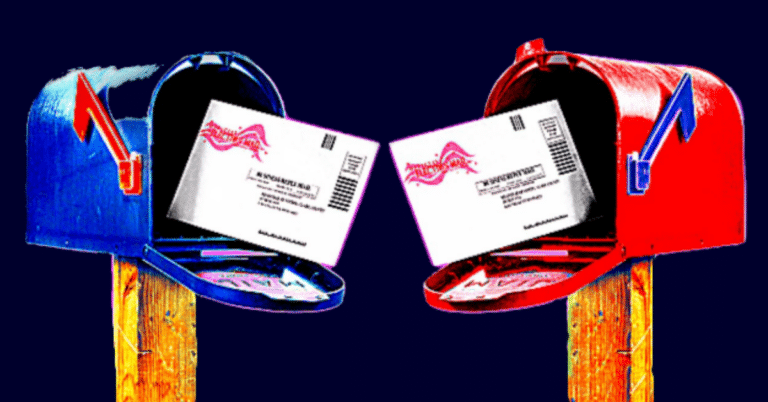 What's Happening:
Ever since the pandemic lockdowns, the concept of mail-in voting has been on the hot seat.
Many say there is no problem with mail-in voting, and most claims of voter fraud are either exaggerated or simple mistakes.
Others say the process invites fraud, as well as other potential problems.
Now, after a renewed push from states to send ballots to all registered voters in November, a new report is turning heads.
The report from a conservative group – the Honest Elections Project – cites a number of problems.
First up is the apparent waste of resources (via Fox News):
At the very least, mailing ballots to every registration on file – knowing that a significant number of registrations are erroneous or outdated – is a significant waste of scarce resources.
According to a recent estimate from Clark County, Nevada predicted it would cost at least $323,000 to send out ballots.
Furthermore, some ballots just get lost or are simply discarded. One report claimed to have found ballots in a trash can.
As the report adds:
Taxpayers' dollars are literally being thrown away because of ill-conceived vote-by-mail schemes.
But beyond that, the group also cited cases of improper use of ballots.
For example, voting on behalf of deceased individuals, or submitting votes in multiple states in the same election.
The report specifically mentions one case from New Jersey:
Earlier this year up to 800 ballots were disqualified in Paterson, N.J., after hundreds of ballots were found in the mail bundled together, despite a state law forbidding anyone from handling or sending more than three mail-in ballots together.

Several individuals – including a councilman-elect – are now facing criminal charges for alleged election fraud.
That marked the first time the state had tried an all mail-in election.
Now, Honest Election Project warns similar issues could arise in other states that attempt the same thing.
And as November looms larger on the horizon, the question remains — could we see nationwide mail-in voting for President?
Well, Washington State Secretary of State Kim Wyman told the New York Times that she doesn't believe this will happen:
You can't just flip a switch and go from real low absentee ballots to 100 percent vote-by-mail.
Key Takeaways:
An Honest Elections Project report reveals the potential dangers of mail-in voting.
This includes resource waste (taxpayer dollars), as well as misplaced, misused, and lost ballots.
It doesn't appear likely that we'll see full mail-in voting for the Presidential election in November, according to one source.
Source: Fox News