Days Before the 2020 Election, Trump's Wall Hits A Historic Milestone – Donald Just Reached 400 Miles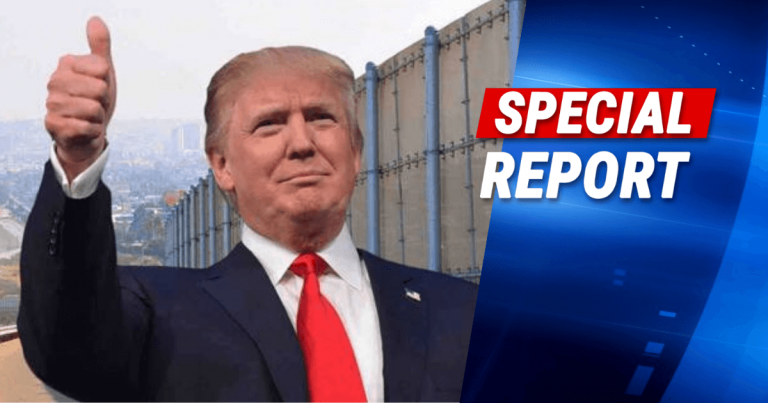 One of President Trump's slogans in the past few years is, "promises made, promises kept." And it's likely you'll continue to hear these words often over the next week.
One of Trump's 2016 campaign promises involved the construction of a new southern border wall, which received mass support from right-wing citizens but major pushback from leftist politicians.
Even so, despite that ongoing opposition, "Trump's Wall" continues its construction.
And today, the Department of Homeland Security (DHS) has announced that the border wall has hit a new milestone. This will undoubtedly rile progressives even further, but it's good news for Trump's campaign.
In 2019, Trump declared a national emergency and urged construction to kick into overdrive. Now, the wall continues to grow relatively quickly.
The result: as of now, there have been 400 miles of new border wall.
Acting Secretary Chad Wolf plans to celebrate this milestone with acting commissioner of U.S. Customs and Border Protection, Mark Morgan.
More than 40 miles of border wall system completed in San Diego Sector. It's helping @CBP stop illegal migration, violent crime, and deadly drugs. pic.twitter.com/Wz0ZufaH2P

— CBP Mark Morgan (@CBPMarkMorgan) October 27, 2020
Remember, Trump promised at the start of his tenure that he'll have 450 miles of new border wall in place by election day 2020.
And it looks like he's right on point with that promise.
If we're at 400 miles now and the wall keeps moving along at a decent clip, we should reach Donald's goal of 450 miles before too long. It could even happen before the end of the year.
Some critics claim it's not all "new wall," but Morgan's response to that is simple:
Don't believe the critics. All wall is NEW wall.

Every mile matters in our fight against drug smuggling, human trafficking and illegal immigration. pic.twitter.com/AQSm2wgENd

— CBP Mark Morgan (@CBPMarkMorgan) October 23, 2020
The Trump campaign and Republicans have often supported the growing wall, as a necessary barrier to protect against the flood of undocumented travelers.
And the CBP plans to continue construction into 2021 and beyond as well.
Presenting CBP's 2021 Wall calendar https://t.co/t6bs05tUyR

— Nick Miroff (@NickMiroff) October 27, 2020
Will this resonate with Conservatives and Trump fans? Will they see this as a significant victory? Or has the border issue waned in the wake of the pandemic and cries of racism?
We'll have to see how much of an impact Trump's wall on the election. Most of his followers will appreciate the progress, but we don't know if that'll result in more votes.
Key Takeaways:
The border wall has reached a new milestone: 400 miles of new barrier.
The wall construction is proceeding at a solid pace, and Trump should hit his goal of 450 new miles pretty soon.
It remains to be seen just how important this issue is in the minds of voters in 2020.
Source: Breitbart