After Elijah Cummings Passes Away – Trump Upends Democrat Expectations And Honors Him On Twitter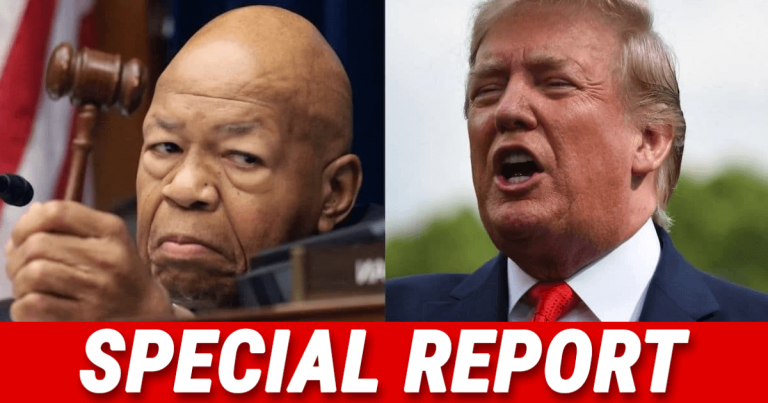 No one saw it coming – but Donald gave him quite the tribute!
Baltimore Rep. Elijah Cummings died at the age of 68. The Democrat was known to have battled numerous health problems for many years.
Yet this sudden death due to complications from an infection was totally unexpected. Especially to the Democrats, who relied on Cummings to be a part of their ongoing probes against President Trump.
Donald Trump has some famous feuds with the Maryland Democrat over the state of Baltimore. Cummings made his fair share of attacks against the POTUS.
With his death in the news, I'm sure Democrats were waiting for Trump to drop a hammer on the man's life and history.
Instead, he proved once again that he takes the high road.
From Twitter: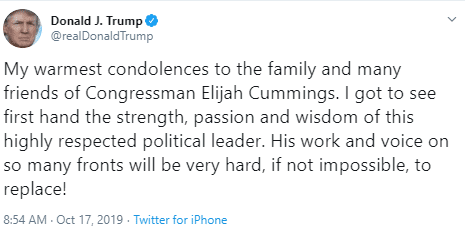 "My warmest condolences to the family and many friends of Congressman Elijah Cummings. I got to see first hand the strength, passion and wisdom of this highly respected political leader. His work and voice on so many fronts will be very hard, if not impossible, to replace!"
Wow, now this is a respectful tribute if I've ever read one. President Trump honors his once rival by celebrating his many years of work.
He even said his work and voice will be impossible to replace. He praised the man better than most liberals and the media!
Oh, you should see the reactions from liberals online. They are falling over themselves. They are so used to bashing every little thing Trump says, that they can't handle him honoring one of their own.
Keep in mind, Cummings was a frequent critic of Trump's. He was a major player in the left's ongoing attempts to impeach him.
Yet Donald Trump simply offered warmth and condolences at the news of his sudden death.
What would liberals say if a fierce Republican had died? I'm sure you can just imagine.
This is the real Donald Trump. The Trump that the media frequently ignores. He's a lion, yes, when it comes to fighting for Americans.
But when it comes down to basic human decency, he's miles ahead of the rest of D.C.
SHARE to tell everyone how honorable our president is!
Source: Twitter