Elon Musk Unloads a Shocking Prediction – And the Entire World Needs to Pay Attention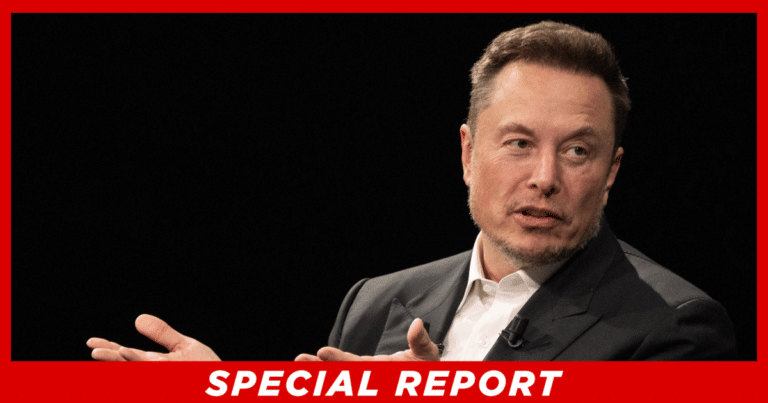 What's Happening:
Since Joe Biden entered office, conflict has exploded across the globe. Critics have blasted Biden for his role in the war in Ukraine. Others have commented on how Biden's intelligence agencies failed to detect the terror attack in Israel.
And many are worried about what might happen in Taiwan. China has threatened to invfde the country for a while. Biden has frequently been criticized for his handling of China, as some claim he is too soft on the communist regime.
Elon Musk, famed businessman and owner of X, has been commenting on the global situation. During a talk on his social platform, he listed factors that the United States cannot ignore. And he made a shocking prediction.
From The Post Millennial:
"And so Russia has the raw materials, and China has the industrial capacity," Musk said. "It's frankly, a perfect match from a war standpoint. So I think we need to stop doing that. It's unwise, and I think will lead to an immense risk to civilization…

"I think we are sleepwalking our way into World War 3," Musk said, "Really, people should be deeply self reflective. If they make their predictions have not come true. They should consider whether perhaps there are other predictions might not come true either."
Elon Musk explained during a live talk that the world is "sleepwalking" into World War III. The entrepreneur didn't mince words while discussing his view on the state of things. He explained that China and Russia, as allies, pose a major threat to the free world.
Russia has resources that China can easily use to ramp up its industrial capacity, Musk explained. That can put the United States at a disadvantage. American companies have been shutting down factories stateside for years, relying almost entirely on China for production.
Musk claimed that Russia and China can become a new "axis of immense power against the West." Despite sanctions and rhetoric aimed at Russia, President Biden has not been able to slow down its activity against Ukraine or other nations.
China continues to pose a threat to Asian nations and the rest of the world. For years, it has talked about invading Taiwan and annexing it. Under Joe Biden, the United States has not been consistent with its support to Taiwan.
Biden has been accused of enflaming conflict overseas, rather than spreading peace. Republicans blamed him for the invasion of Ukraine, saying he "greenlit" Putin's plans. Only afterward did Biden throw billions at the conflict, encouraging fighting rather than peace negotiations.
The United States is ramping up its military presence in the Middle East. But many have pointed out Biden's weakness on Iran has only emboldened the nation–which backs most of the region's terror networks.
Could Elon's prediction come true?
Key Takeaways:
Elon Musk warned the world is "sleepwalking towards WWIII."
The famed innovator claimed Russia and China could become an axis of "immense power."
This comes as conflicts around the world erupt into warfare.
Source: The Post Millennial