Elon Musk Sends Dr. Fauci Spinning – He Just Signaled Twitter Will Unload the 'Fauci Files' Shortly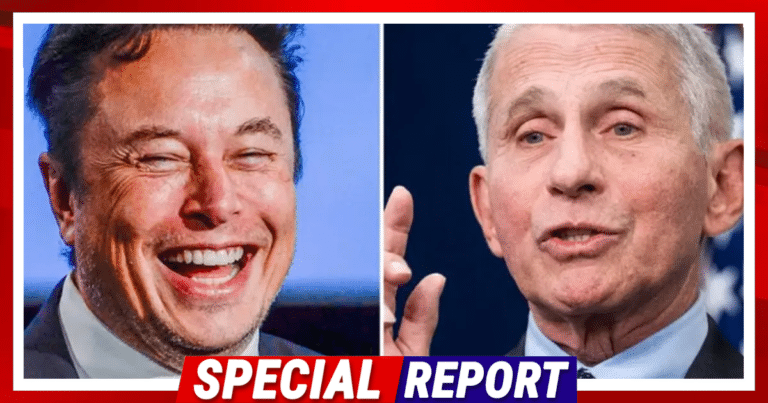 What's Happening:
After decades of torment and scandal, Anthony Fauci announced he was leaving government work at the end of 2022. The man had previously been worshiped by the liberal media over his doom-and-gloom predictions about the pandemic. But his star quickly fell, as millions of Americans rejected his tyrannical demands.
Now, he is officially no longer a government employee.
From The Washington Examiner:
The polarizing now-ex head of the National Institute of Allergy and Infectious Diseases, as well as ex-Chief Medical Advisor to President Joe Biden, had previously announced that he would be stepping down at the "end of" December…

According to Fauci's own words, however, he is definitely "not retiring."
Despite being done conning the American taxpayer, Fauci apparently still wants to milk his celebrity. He might end up getting a job at CNN. Or publishing a book. But he might want to move fast to cash in on his name. But Elon Musk just announced something that will soon make Fauci's name mud.
From The Daily Wire:
Twitter CEO Elon Musk signaled that an incoming installment of the "Twitter Files" could focus on Dr. Anthony Fauci…

It was not immediately clear what the so-called Fauci Files might contain or how they would be released. But there have already been several installments of the "Twitter Files," promoted by Musk himself, including those which have offered an insider's view into censorship efforts at the social media giant.
Later this week

— Elon Musk (@elonmusk) January 1, 2023
Elon Musk said, in a response to a question, that he will be releasing files on Anthony Fauci, "later this week." Musk has already sent the country reeling by releasing shocking documents regarding Twitter, the federal government, Democrats, and even the FBI.
Twitter has been outed for censoring Americans, at the request of Democrats within the government. This is considered a violation of the First Amendment and will most likely trigger investigations by Congress.
But Musk has just teased files on the most hated man in America (after Joe Biden). The man who advocated for lockdowns, despite the harm they'd do to the country. The man who at first said we didn't need masks, then admitted that was a lie. The man who said the vaccine wouldn't work then flipped and demanded everyone get boosted for the rest of their lives.
The man who might be investigated for his connection to the Wuhan lab where this pandemic got its start. A man, let's not forget, who paid for the torture of innocent puppies.
Whatever Musk releases certainly won't help Fauci's cause. And it might speed up calls for investigations against the man.
We can only hope.
Key Takeaways:
Elon Musk revealed he has files on Anthony Fauci, which he will release soon.
Anthony Fauci has been the center of much controversy related to the pandemic.
Musk has turned the country upside down with his Twitter Files bombshells.
Source: The Washington Examiner, Daily Wire