Democrat Leader Engel Caught On Hot Mic – He Mumbles, "If I Didn't Have A Primary, I Wouldn't Care"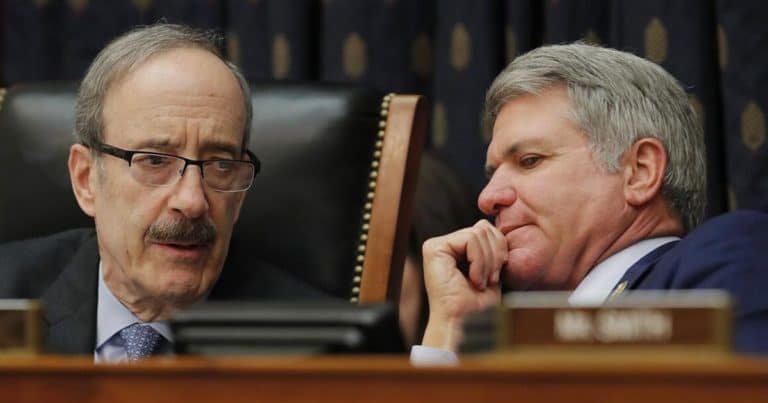 Every sane American was sickened to see the memory of George Floyd disgraced by violent riots. Or so we thought.
New York was hit hard by several nights of rioting. Residents demanded action from their local leaders.
One congressman, after being MIA for months, suddenly appeared. He wanted to make a statement, but what he said during a hot mic moment was much more eye-opening.
From NY Post:
The Bronx-Westchester lawmaker, 73, was at a press conference with local leaders and elected officials when he asked Bronx Borough President Ruben Diaz Jr. if he could make some remarks at the microphone.

…Engel mumbled through his face mask: "If I didn't have a primary, I wouldn't care."

… "If I didn't have a primary, I wouldn't care," he repeated.
Eliot Engel, a New York representative from the Bronx, was largely missing during the COVID-19 outbreak.
He suddenly reappeared after the riots, for a press conference. He asked the borough president to let him make some remarks.
He then admitted, twice, that if he didn't have a primary coming up, he "wouldn't care."
Our Take:
Yikes. It appears Mr. Engel doesn't seem all that shook up about riots that nearly destroyed his district.
He provided zero leadership during the damaging lockdowns. As New Yorkers panicked and worried, where was he?
Probably hiding in his house, no doubt.
But now that everyone's coming out to talk about the riots, he suddenly reappears. He was jockeying for a chance at the mic—hoping to no doubt get a nice sound bite for his upcoming election.
Engel didn't realize that the mic was on when he admitted he only cared about his primary.
Dang, man. I know you're like 100 years old and that you've been in politics for a long time. But keep your honest, jaded opinion to yourself.
People are hurting, but it seems you only care about snagging your primary race.
Good thing that mic was on so that at least a few Americans can see what Democrats really care about.
This man doesn't seem all too eager to help the people of the Bronx. Only to make an appearance to secure his primary race.
I guess the lockdowns were too far out for him to bother to get out of bed?
SHARE if you think Democrats are unfit to lead our nation.
Source: NY Post