Eric Trump Introduces New 2020 Slogan – Shows It Off On Donald's Signature Red Hat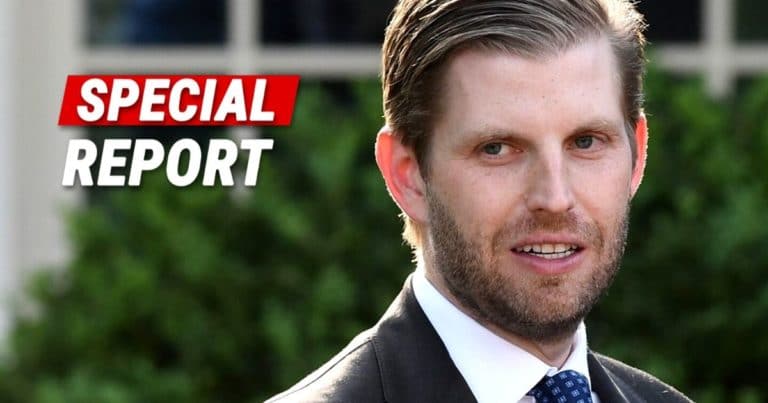 Eric and Donald are sending a strong message to the Democrats – take that!
I love the "Make America Great Again" slogan. Don't you?
It's exactly what President Donald Trump has been trying to do for the past three years.
However, while MAGA is indeed fantastic, we might have to embrace another slogan…
And this one reflects the turmoil our Commander-in-Chief faces every single day, and I think it's 100 percent accurate.
Eric Trump Jr. unveiled a brand new red hat over the Thanksgiving holiday — and it doesn't say "MAGA" on it.
Nope, this one says "LOPA."
Via The Daily Caller:
President Donald Trump's son, Eric Trump, tweeted out a photo of a red hat on Thanksgiving which has the abbreviation 'LOPA' on it, which he said stands for 'leave our president alone.'
What do you think? Here's a look: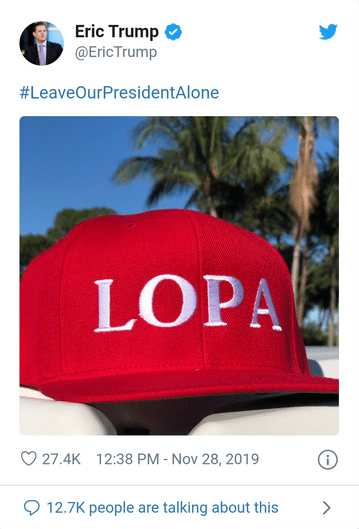 I think it's perfect!
It's exactly what millions of Americans want: for the media and all the impeachment Democratsj to "leave our president alone"!
Now, Trump hasn't confirmed that he'll be selling this hat for his upcoming 2020 campaign, but I think he should.
It's a fitting partner to the MAGA hat, and it makes a very strong statement:
As Donald faces seemingly endless attacks and accusations, he continues to work hard for the American people.
But it must be weighing heavily on him, especially with the impeachment proceedings kicking into high gear.
So, Trump needs our support! He needs us to tell his attackers to leave him alone!
Just let the man do his job, and maybe Democrats should consider doing THEIR jobs as duly elected officials.
Wouldn't it be great if everyone in Washington actually did their jobs, and not just Trump…?
SHARE if you love Trump's new slogan "Leave Our President Alone!"
Source: The Daily Caller