Titanic Sub Tragedy Takes a Sudden Turn – And It Comes From 1 Legendary Expert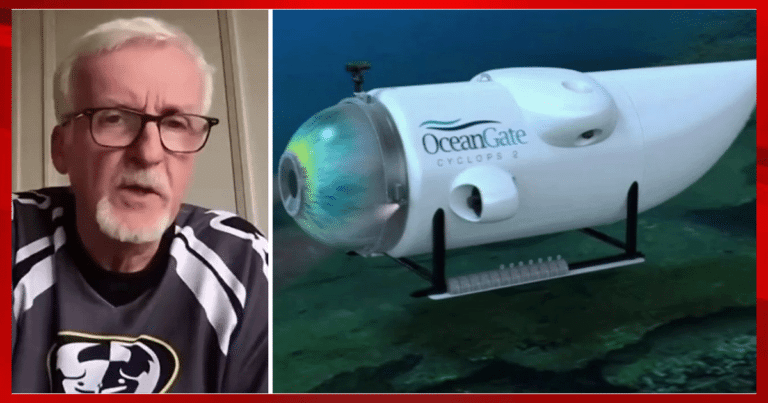 What's Happening:
This week, we learned the horrible fate of OceanGate's Titan submersible, which was lost while exploring the remains of the Titanic. U.S. officials revealed that the craft imploded while deep under the sea. None of those on board survived.
Filmmaker and noted Titanic expert, James Cameron, came out discussing the tragic event. The man is one of the leading experts on the Titanic and has actually visited the underwater site 33 times. And he's saying what he knew all along and criticized the government for what they did.
From The Post Millennial:
He also said that "a lot" of people in the diving community "got together and wrote a letter to OceanGate and said, 'You have to certify. You cannot take people down. It's irresponsible. And it could lead to catastrophe.'" […]

"I knew what happened. Sub imploded. I sent emails to everybody. I know I said, We've lost some friends. The sub has imploded. It's on the bottom, in pieces right now. I sent that out Monday morning. I never believed in that technology of wound carbon fiber, you know, wound filament, cylindrical hull. I thought it was a horrible idea."
Titanic Director James Cameron who visited the Titanic 33 times onboard a submersible and also holds a world record for the deepest dive ever at 35,787 ft in the Mariana Trench has weighed in on the Titan disaster.

"I knew Titanic submarine imploded on Monday and rescue was a… pic.twitter.com/RZDARTukrI

— Oli London (@OliLondonTV) June 23, 2023
James Cameron, acclaimed director of the Titanic and Avatar movies, revealed what he knew about the doomed OceanGate Titan submersible. He said that people within the diving community pressed the company to get their craft certified. But apparently, they didn't.
Cameron explained that the submersible was made of "composite material." The safest, strongest submersibles are made out of one "contiguous material" like steel or titanium. That provides the strongest craft that can withstand the intense pressure underwater.
But it appears OceanGate had cut corners on a number of things, including the material of the craft.
Cameron went on to criticize the high-publicized search of the Titan as a "nightmarish charade." He seems to think the that the U.S. Navy and Coast Guard would have already known the ship had crashed–but refused to tell the public until the wreck was found.
From what we are learning, OceanGate is already facing lawsuits as a result of this disaster. It may or may not survive these suits, but one thing is sure: they better start listening to men like Cameron.
Key Takeaways:
Filmmaker James Cameron discussed the OceanGate tragedy.
He revealed the submersible was not safe, because it was made of composite materials.
Cameron claimed many within the community begged the company to certify the ship, but it did not.
Source: The Post Millennial