Report: FBI Showed Up To Comey's Door, Recovered Missing Trump Evidence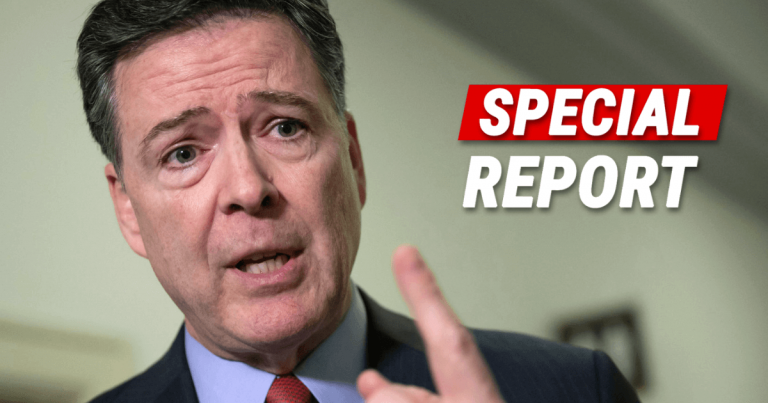 James Comey is in trouble – the FBI came knocking!
Major news just emerged about what Obama's top people were up to—even after Trump won the 2016 Election.
Former FBI director James Comey should be getting nervous. We reported on how he and Lynch gave immunity to Clinton's aides, letting them hide info on laptops.
Later, they destroyed those laptops with the fed's approval.
That's pretty bad.
Now, we're finding out about a situation that should have been all over the news.
From Fox News:
Comey was fired on May 9, 2017, and on the morning of June 7, an FBI evidence log showed that he handed the agents three memos comprised of one or two pages, dated February 14, 2017; March 30, 2017; and April 11, 2017. Comey also provided one four-page memo dated "last night at 6:30 pm."
Uh-oh, James Comey. Looks like your love of writing memos might bite you in the ass.
Comey confessed before Congress he leaked several memos to the press, intent on harming the president. That alone should have taken him down.
Nobody can doubt that Comey was not interested in serving Donald Trump—his boss. It seems Comey was still loyal to Obama and the last administration.
In fact, we recently learned he may have been secretly conducting a probe on President Trump. It appears he was trying to gather information on the new administration—even sending moles into the White House to gather dirt.
This, despite the fact that twice Comey told Trump he was not investigating him.
Now we have learned, according to this report, that Comey handed over several memos to the FBI soon after he was fired. These memos were locked away—so that the public would know nothing about them.
The memos, according to reports, contained sensitive and classified information. Those included conversations he had with President Trump.
It seemed like Comey was trying to compile evidence against the president. His "detailed accounts" were simply a path to trap the lawfully elected Leader of the Free World. They were meant to be ammunition for the left.
But why haven't we heard about these memos until now? And what about the obvious question:
Is it legal for the head of the FBI to be secretly compiling evidence against the very man he was sworn to serve?
Why hasn't Comey been held accountable for his obviously politically-motivated actions, aimed at taking down the president?
These are questions we must get answers to. AG Barr and the DOJ have to get to the bottom of this.
Comey and anyone else involved in a scheme to impeach Trump should face justice—shouldn't they?
SHARE if you want the IG to prosecute Comey to the full extent of the law!
Source: Fox News