FBI Hit with Bombshell Report – New Whistleblower Allegations Could Take Down the Agency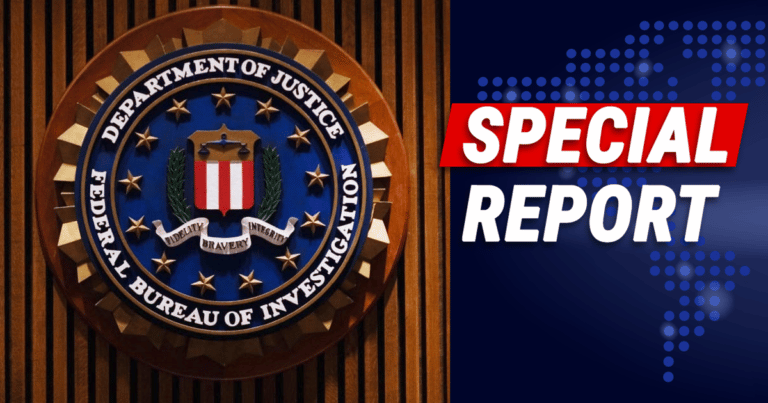 Many citizens say we are living in unprecedented times. Things are happening in the political and governmental climate America has never seen before.
And now, one of the country's most powerful – and once respected – agencies is under heavy fire, as a bombshell report has ripped through Washington.
The Federal Bureau of Investigation (FBI) faces severe allegations of "misconduct," "political bias," and "abuses."
It all comes from a recently revealed House Judiciary Committee report, which has everyone in D.C. talking. The eye-raising report was also a product of the Subcommittee on the Weaponization of the Federal Government.
Most importantly, the report reveals that several FBI employees who spoke out against the "politicized rot" within the agency have suddenly been hit with punishments.
They've either had their security clearances revoked, or they've been suspended from duty. And the report states as follows (via Fox News):
The disclosures from these FBI employees highlight egregious abuse, misallocation of law enforcement resources and misconduct with the leadership ranks of the FBI.

The report said that the FBI whistleblowers described the FBI's alleged 'retaliatory conduct' against them 'after making protected disclosures about what they believed in good faith to be wrong conduct.'
The report names two whistleblowers: Steve Friend, former FBI special agent, and Marcus Allen, an FBI staff operations specialist.
Both had their security clearances revoked, and the FBI suspended Friend without pay after he expressed concern with the agency's handling of Domestic Violent Extremism cases.
Friend alleges that the FBI's handling of this probe — connected to the January 6 riots – "deviated from standard practice and created a false impression with respect to the threat of DVE nationwide."
Allen was apparently punished just for doing his job: he conducted research using open-source news articles and videos, and sent these results to his colleagues.
Unfortunately, the bureau viewed this research as "conspiratorial views," and didn't even grant him approval to seek other employment when he was suspended.
The FBI contends that Friend gained access to unauthorized data, and refused to attend a Security Awareness Briefing (SAB). They also accuse him of participating in "unapproved interviews."
In regards to Allen, the FBI opened a security investigation into him in October 2021, and his security clearance was suspended due to "security concerns."
They also say Allen "obstructed the FBI's lawful investigation" and they had concerns about his "judgment, trustworthiness, and reliability." However, critics maintain that political bias lies beneath all of this.
The Committee's report makes it plain: "the FBI, under Director Christopher Wray and Attorney General Merrick Garland, is broken."
The report adds the following:
The leadership at the FBI and Justice Department have weaponized federal law enforcement against everyday Americans, seeking to silence those who dare to have a different viewpoint.

Meanwhile, whistleblower testimony highlights that the FBI's partisan leadership is currently engaging in a 'purge' of agents who hold conservative beliefs.
We're seeing this everywhere, in all parts of society, and at every level of leadership and government.
To millions of frustrated Americans, it's obvious that there's a wide-ranging bias against any viewpoint or opinion that clashes with the "accepted" opinions of the leftist regime. And it's impacting everything.
It's also scary when we've got one of the most powerful agencies in the land basically weaponizing itself to push an agenda.
At this point, it stops being about the law and starts feeling like Germany under Hitler or Russia under the tsars. That's just how some U.S. citizens feel right now.
Key Takeaways:
A House Judiciary Committee report reveals whistleblower testimony against the FBI.
There are severe allegations of misconduct, abuse, and "politicized rot" within the agency.
The report claims that the FBI and DOJ "weaponized federal law enforcement against everyday Americans" and tried to silence anyone with a conservative viewpoint.