FBI Director Delivers 1 Absurd Reply to Congress – Conservatives Can't Believe He Actually Said This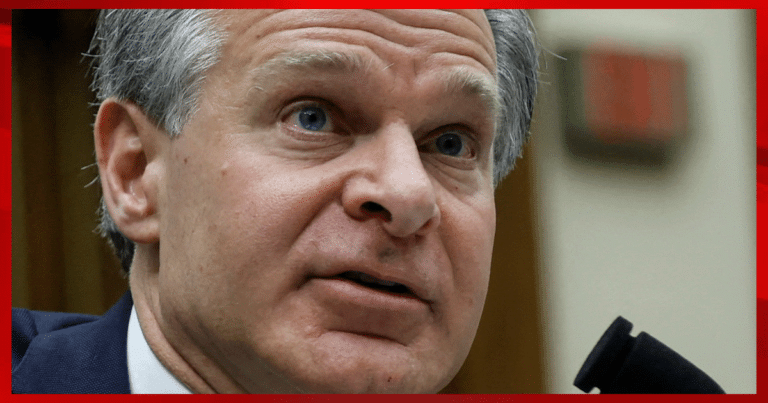 What's Happening:
This week, FBI Director Christopher Wray finally testified before the Republican-controlled House. And boy, did they have a lot to say. The FBI is currently being investigated by House lawmakers for the weaponization of its power against the American people. We've learned, again and again, how Democrats within the agency colluded with social media outlets to silence free speech.
It has come out, repeatedly, how the FBI worked with major social networks to silence a particularly important story, just before the 2020 Election. Even whistleblowers said the FBI refused to investigate this bombshell because it would hurt Joe Biden's chances. House Republicans demanded answers from the man at the top. And the head of the FBI responded like this.
From The Post Millennial:
During the committee hearing, Republican Rep. Harriet Hageman probed the FBI director about the involvement of the FBI "by proxy" in shutting down free speech of American citizens online…

She continued by saying the Committee "has learned that the FBI acted to 'discredit leaked information about Hunter Biden before and after it was published.'"

Wray said that he did "not agree" with the Committee's findings.
Really. That's what he said. The House of Representatives presented condemning evidence that Wray's agency colluded to suppress the First Amendment rights of Americans. And all this goon could say was "I don't agree."
Oh, so I guess that if you "don't agree" with something… it just goes away? Kind of like biological gender for most liberals. If you don't agree, it doesn't exist! Apparently, Wray took a page out of the woke left's book to wiggle out of the consequences of his agency's violation of our free speech.
It is well-documented, thanks to Elon Musk and others, that the FBI engaged in suppressing the First Amendment. They prevented people from spreading the story about Hunter Biden's infamous laptop, to ensure it wouldn't hurt Joe's election chances. And that is only the tip of the iceberg of how the FBI went out of its way to trample our free speech rights.
Yet when Wray is called to answer for these crimes, he just shrugs his shoulders.
We have good reason to believe Wray was terrified, though. According to reports, the normally calm and cool FBI head was visibly rattled.
From Daily Wire:
While it seems evident that Wray was blustering his way through the hearing, it should be noted that he seemed flustered at various points — which is rare for Wray. He usually seems cool as a cucumber.
He should be flustered. House Republicans are getting closer and closer to proving, without a doubt, that the current FBI leadership has engaged in trampling our rights to protect the interests of the Democratic Party. You don't think heads won't roll then?
Key Takeaways:
FBI Director Wray testified before House Republicans.
Wray refused to admit that the agency was engaged in violating the First Amendment.
It has been documented that the FBI colluded with social networks to censor free speech online.
According to reports, Wray appeared flustered as Republicans questioned him.
Source: The Post Millennial, Daily Wire