The FBI Is Quickly Changing Its Tune – After Threats of Impeachment, Attorney General Garland Admits He Personally Approved Raid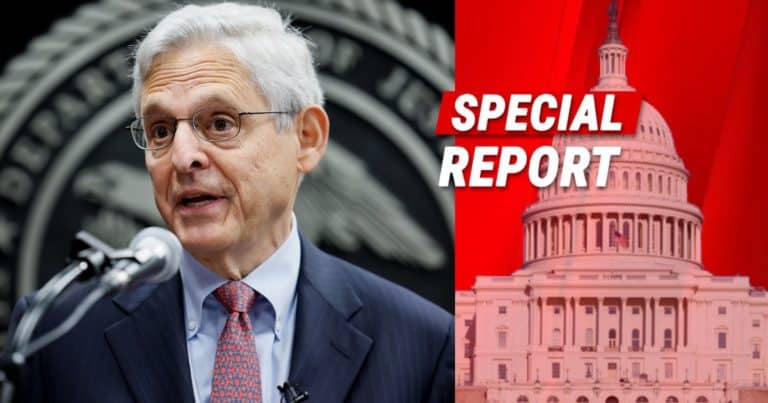 What's Happening:
Plenty of experts have speculated on why Biden's FBI raided Trump's home. The official claim, for now, was that the National Archives wanted some documents Trump was holding onto.
Those claims, some have said, are not strong grounds to raid his home, especially after Trump and his lawyers said they had been cooperating with the government.
The blowback has been intense. Democrats are reeling over the outrage Americans are expressing. And now it seems they are changing their story.
From Newsweek:
The senior Justice Department source says that Garland was regularly briefed on the Records Act investigation…

He insists, though, that Garland had no prior knowledge of the date and time of the specific raid, nor was he asked to approve it.

"I know it's hard for people to believe," says the official, "but this was a matter for the U.S. Attorney and the FBI."
UPDATE: Attorney General Merrick Garland called a last-minute press conference to make a statement, and here is what he said. From CNN:
Attorney General Merrick Garland said that he "personally approved" the decision to seek a warrant for the FBI to search former President Trump's Florida home at Mar-a-Lago.
"The department does not take such a decision lightly. Where possible, it is standard practice to seek less intrusive means as an alternative to a search and to narrowly scope any search that is undertaken," Garland said.
Oh, this is rich. Now that it has become abundantly clear that Americans are upset about this raid, the D.C. swamp is pointing fingers.
A Justice Department official claimed that Garland knew about the investigation, but did not sign off on the raid.
He even said, "It really is a case of the Bureau misreading the impact," blaming FBI Director Wray for the outrageous and unprecedented move.
Then Garland, who had been threatened with impeachment by Republicans, came out and admitted he had cleared the raid and was working with the courts to unseal the search warrant.
Hmm… it sounds like the DOJ is trying to avoid getting called to task over this. But how many people will believe it?
This is a raid of the home of a former President of the United States. This wasn't a small action. Anyone with half a brain should have expected serious consequences.
So it turns out the head of the DOJ did know about it. Questions still remain whether his boss, the President, or any of his team knew about it.
Currently they are denying it. And we still don't know exactly what they were searching for that was so urgent they had to raid a former President's home.
Clearly, Washington is now afraid of what it's done to Trump.
Key Takeaways:
An official claimed AG Garland did not know about or approve the raid.
Later Garland confirmed he approved the raid.