After Federal Court Cripples Biden Scheme – Supreme Court Faces Critical Decision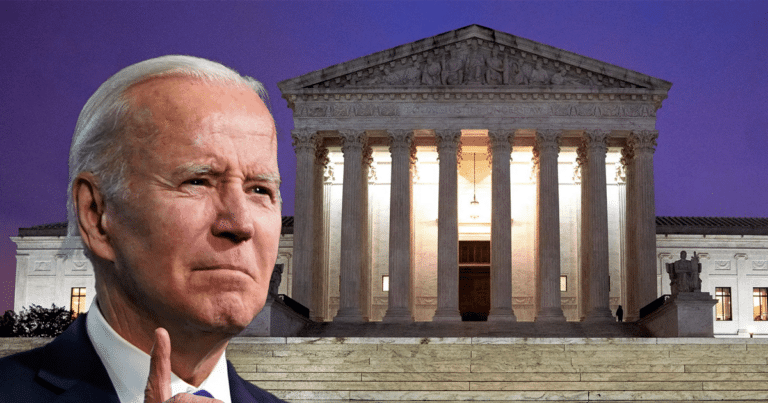 What's Happening:
The Biden administration has been hit with several setbacks in its quest to rein in "misinformation." A federal court over the summer banned the White House from meeting with social media and big tech companies, in a stunning rebuke. Even an appeals court recently ruled that the Biden administration violated the First Amendment when it coerced tech companies to censor American users.
In recent years, Democrats have used the guise of battling what they call mis- or disinformation to control speech online. Reports have outed federal agencies who colluded with social networks to take down posts, ban users, or otherwise limit content that contradicts the left's narrative. Biden has received two painful blows, thanks to these court rulings. And now, the administration is rushing to the highest court, to get this undone.
From The Post Millennial:
The Biden administration made a request Thursday afternoon asking for the Supreme Court of the United States (SCOTUS) to temporarily halt a lower court directive that puts limits on how it is permitted to correspond with social media companies over rules surrounding content moderation…

Justice Samuel Alito, who is tasked with taking emergency requests from the US Court of Appeals for the 5th Circuit, determined the lower court's order will be on hold until the day's end on Friday, Sept. 22 to allow justices the time to make a determination on the request.
The fate of free speech in the United States will, once again, be decided by the Supreme Court. After being shot down by two federal courts, the Biden administration is calling on the Supreme Court to block a ruling that prevents it from meeting with social networks and tech companies.
Lower courts have deemed that this White House is untrustworthy, given the ample reports revealing its tendency to violate the First Amendment. Numerous federal agencies, including the FBI, State Department, and the CDC, have coerced social networks into censoring American citizens.
Respected figures like doctors and journalists have often been banned from social networks. Big tech has been complicit in demonizing leading experts, largely because they disagree with the Biden administration and the Democrats' narratives.
It is unlikely, though, that the Biden administration will get a sympathetic ruling from this Supreme Court. The court has a conservative majority. And, historically, the Supreme Court frequently sides to uphold constitutional rights, rather than limit them.
A case that involves a presidential administration controlling or manipulating free speech online is likely to only go one way. The court, perhaps even its liberal justices, could very well rule against Biden and his agencies, upholding the decision to block them from communicating with tech companies.
Key Takeaways:
The Biden administration called on the Supreme Court to overturn a ruling against it.
Lower federal courts blocked the White House from communicating with tech companies.
The ruling was the result of the Biden administration violating the First Amendment.
Source: The Post Millennial