Federal Court Sends President Biden Reeling – They Just Dropped the Gavel on His Federal Contractor Mandate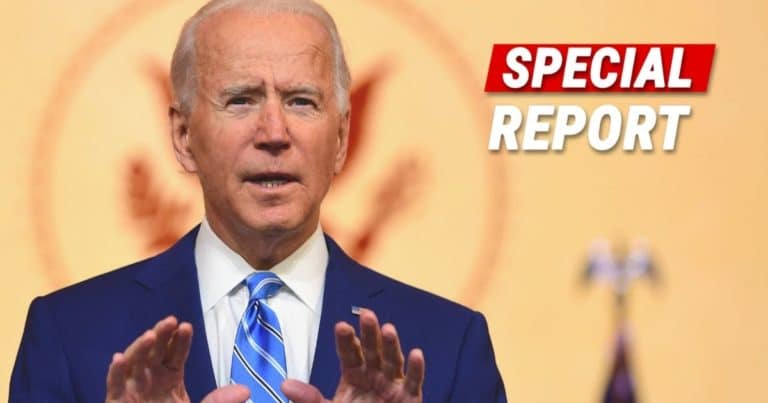 What's Happening:
One of the scariest things about this administration is how Biden has tried to make decisions for the American people. Instead of respecting our constitutional rights, Biden has taken it upon himself to make decisions that affect our lives, paychecks, and health.
Only the federal courts have stopped Biden from becoming a dictator. And the highest courts in the land continue to strike blows for freedom. Biden tried to force his will onto millions of American workers. But, yet again, a federal judge had to shut this madman down.
From The Washington Free Beacon:
A U.S. appeals court on Monday said the White House could not require federal contractors to ensure that their workers are vaccinated against COVID-19 as a condition of government contracts…

The court said Biden wanted it "to ratify an exercise of proprietary authority that would permit him to unilaterally impose a healthcare decision on one-fifth of all employees in the United States. We decline to do so."
Wow. A federal appeals court upheld a decision from a lower court that stops Biden from forcing federal contractors to get the COVID vaccine. Roughly one-fifth of all American workers are federal contractors.
That's millions of people, whom Biden tried to get vaccinated, or else get fired. The federal court knocked down this mandate, rebuking Biden from deciding for Americans what health care they should receive.
This is one of many victories against Biden's deranged vaccine mandates. Last year, Biden followed up his failure in Afghanistan by mandating all working Americans to get the COVID vaccine. He issued numerous orders that applied to government workers, healthcare workers, the military, federal contractors, and just about everyone else.
It was one of the most egregious violations of Americans' civil rights we've ever seen. Biden was saying, "Get this vaccine or lose your job." Numerous lawsuits were launched to shut his mandates down. And Biden lost just about every one of them.
His vaccine mandate was one of many black stains on this administration. There are so many by now, it's hard to keep track.
Key Takeaways:
A federal court upheld a lower court's decision to end one of Biden's mandates.
This mandate required federal contractors to get the COVID vaccine.
The mandate applied to nearly 1/5 of all American workers.
Source: Washington Free Beacon