Federal Court Hands Trump Constitutional Win – And Donald Just Wagged His Finger At Democrats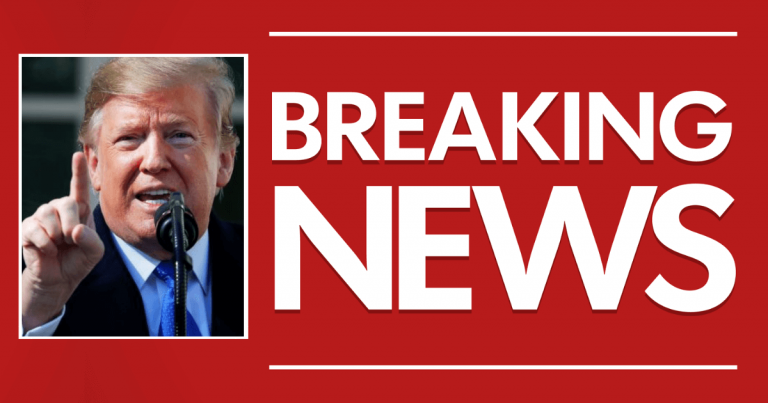 Democrats never saw Trump coming!
The Democrats are really something, aren't they? Many think they are something pathetic.
They've tried to attack Trump at every legal angle. Can you believe they sued Trump because government officials are staying at a Trump hotel?
It was clearly a ploy to get a look into Trump's personal financial records.
But a court just handed Trump a big win.
From The Hill:
The 4th U.S. Circuit Court of Appeals on Wednesday dismissed a lawsuit filed by Maryland and the District of Columbia alleging that President Trump is violating the Emoluments Clause of the Constitution, finding that they did not have the standing to sue the president.
The court dismissed a lawsuit filed by Maryland that Trump was violating the law because government officials were staying at the D.C. Trump hotel.
They claimed he was putting on Presidential pressure to stay there so he could make money! Too bad that couldn't be proved.
In fact, the judge dismissed it, noting that many government officials would not want to stay there, just because of the Trump name.
Trump called out this lawsuit as a bigger effort to undermine his leadership.
From Twitter: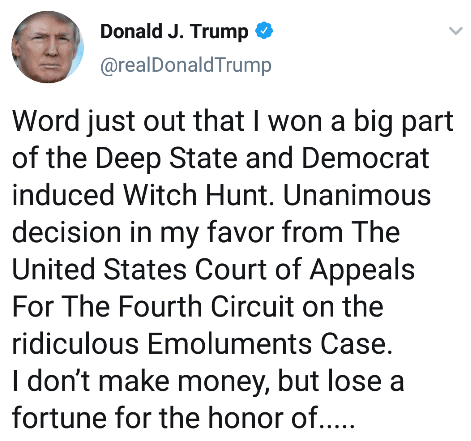 And then he finished up big: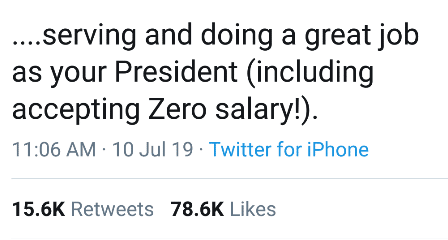 "Word just out that I won a big part of the Deep State and Democrat induced Witch Hunt. Unanimous decision in my favor from The United States Court of Appeals For The Fourth Circuit on the ridiculous Emoluments Case. I don't make money, but lose a fortune for the honor of serving and doing a great job as your President (including accepting Zero salary!)."
Trump called the lawsuit a hunt by the deep state and Democrats. He exposed their scheme, saying he lost a fortune to become president.
Donald Trump earned big bucks in his private business, including his deals with network TV.
But he put that all aside—to eliminate conflicts of interest—in order to serve the American people, to make our nation great again.
He doesn't get a penny from people staying at a Trump hotel. In fact, he even donates his salary as president!
All the Democrats were trying to do is force Trump to hand over his private records.
Sorry guys, you failed again.
SHARE If you support Trump, not the Democrats going after him!