Feds Declare Verdict On Ben Carson – It Turns Out They Never Had Any "Evidence Of Misconduct"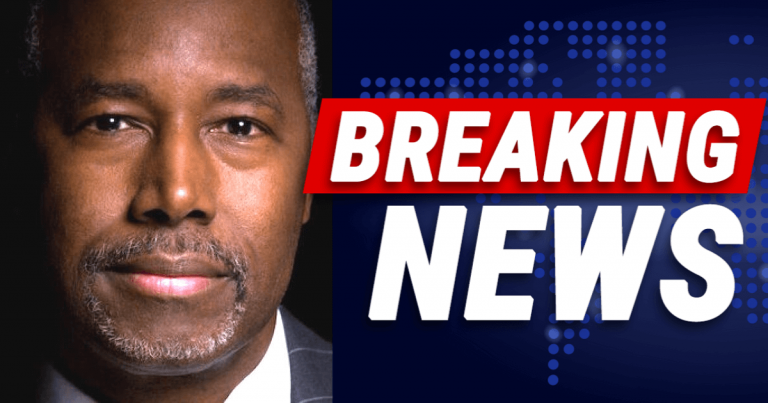 Ben Carson knew it was coming – he just got a clear verdict.
President Trump made history when he appointed former rival Ben Carson as the head of HUD, turning a former Democrat bastion on its head.
Ben Carson is a brilliant man. A patriot and life-saver. His plans for HUD are turning around many inner cities. He's bringing in jobs and investments.
We haven't seen success like this from HUD… ever.
But Democrats have been trying to take down this man. They accused him of wastefully spending money to furnish the HUD offices.
Give me a break. As if Democrats don't use tax dollars like their own personal, piggy banks.
But after a thorough investigation, Carson and his wife have gotten a clear verdict.
From Fox News:
The inspector general for the Department of Housing and Urban Development said in a new report that investigators found no evidence of misconduct by Secretary Ben Carson concerning a controversial order for expensive furniture in late 2017…

"We found no evidence indicating that either Secretary or Mrs. Carson exerted improper influence on any departmental employee in connection with the procurement," the report stated. "We did not find sufficient evidence to substantiate allegations of misconduct on the part of Secretary Carson in connection with this procurement."
There ya go. As if you needed proof that an honest, hard-working man like Carson was trying to cheat taxpayers.
According to the investigation, Carson left the purchasing of furniture to his staff. His wife only offered some style guidance.
Clearly, someone else in the department wanted to spend more than they should have. Maybe they did it on purpose, to make Carson look bad.
Or perhaps they got overeager and require some reprimanding. In fact, when Carson found out about the order, he canceled it! So, why are we even talking about this?
This pales in comparison to the lavish offices and lifestyles Democrats have enjoyed for decades, on the taxpayer's dime.
Yet they had the gall to attack Carson, an African American leader who is turning around countless lives.
Carson has always had a reputation of integrity and respect. Even political rivals agreed on that. Yet the left is so petty and childish, they launched an investigation to smear his name.
All because he is loyal to Donald Trump.
Ben Carson needs some love, folks!
SHARE if you support and love Ben Carson!
Source: Fox News