After Feinstein Demands US Mask Mandate – She Says If States Refuse, Then Withhold Relief Funds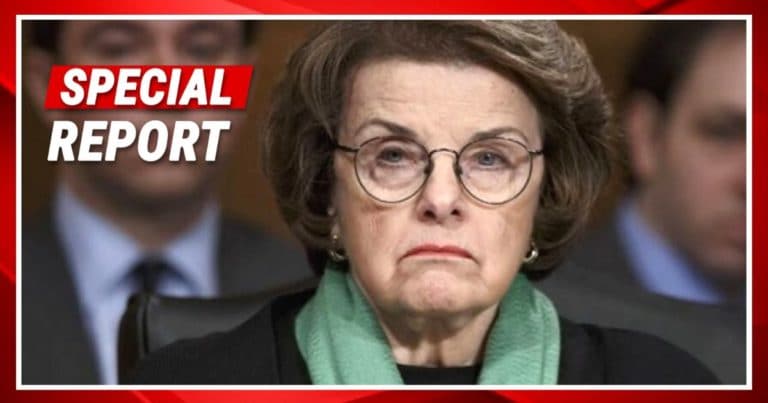 What's Happening:
Despite months of restrictive lockdowns and penalties, COVID still lingers in the United States. Critics are attacking Democrats' heavy rules, saying they did nothing to stop the disease, but perhaps made it much worse.
As states fight to stay open, Democrats are looking to a new avenue to control Americans: face masks. Various cities and states have orders requiring Americans to wear face coverings outside (although the government discouraged Americans from buying face masks in March).
Some states refuse, saying the government cannot force a free citizen to wear a mask. Now, Democrat Sen. Feinstein wants to withhold relief funds from states that don't mandate masks:
Senator Dianne Feinstein (D-CA) vowed Thursday to push individual states toward adopting a mask mandate by introducing a legislative amendment in the Senate to prohibit states without mask requirements from receiving federal coronavirus relief in the next round of funding.
Health experts and critics in the media continue to debate the usefulness of masks. California, which has some of the strictest COVID rules, is also suffering from a continued spike in positive tests. They have had face mask orders in place for months.
Many Americans worry that mask mandates will only lead to greater encroachments on their liberties. Can't citizens make their own decisions for the health and well-being of their families?
Apparently, Feinstein doesn't think so. Not only does she want the government to force free citizens to wear a mask, but she wants to punish states that put Americans' liberty ahead of government.
Beyond the debate over masks, this is about Americans' freedom of choice. For months, citizens have been deprived of their basic rights, over panic from COVID.
They have been locked in their homes, laid off from work, and denied access to school (among many other restrictions). Some say none of it helped "slow the spread."
Now the government thinks it's fine to force a mask mandate onto Americans. But shouldn't that be left up to citizens?
We know cigarettes cause cancer. The government doesn't stop you from smoking. We know alcohol can kill. The government doesn't deny you beer.
Eating cheeseburgers and pizza will shorten your life. Again, the government doesn't wire your mouth shut.
But the government is allowed to punish you if you don't wear a constricting mask?
Key Takeaways:
Democrats Sen. Feinstein wants to punish states that don't force face masks.
She wants to withhold relief funds unless states require citizens to wear masks out of doors.
Many Americans are criticizing the government's excessive response to the COVID panic.
Source: Daily Wire