New Fetterman "Mystery" Stumps D.C. – He Just Co-Sponsored a New Law While in the Hospital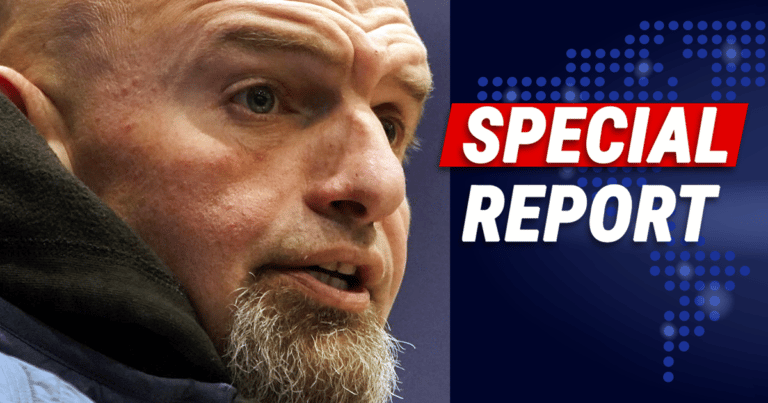 When Sen. John Fetterman went into the hospital for clinical depression, rumors quickly started to fly.
Some said the situation was worse than initially reported, while others said it was routine treatment. Critics say it indicates a lack of competence on the Senator's part, and they question his fitness for office.
Now, another mystery is swirling around Washington.
The last update we had said Fetterman is doing fine, though he remains in the hospital. However, there's an interesting angle to this: it seems he's still working, and even co-sponsoring bills.
This means he's continuing his duties as an elected official even while being treated for clinical depression — and even medical experts have questions.
New York University medical professor Dr. Marc Siegel told Fox News that he thinks the situation is "very unusual."
And he added:
So if you were to say to me, somebody had a heart attack, they're still in the hospital, can they be a senator? You know, my answer would be depends on how their heart is doing right now.

And, in general, the answer would be no. That if you're in the hospital for severe depression, that your judgment is impaired, and that your ability to think clearly and rationally is impaired. But we don't know that.
Right now, there's a lot we don't know.
What we do know is that Sen. Fetterman co-sponsored a rail safety piece of legislation this week, and he hasn't left the hospital. As far as anyone knows, he's not fully recovered from his depression.
And as Siegel said, this is a mental condition and could suggest that he's not fit to be performing senatorial duties.
The doctor said we can't know how severe Fetterman's condition really is, what kind of therapy he's getting, or how he's responding. He said he'd also want to know "what the psychiatrists think."
But the most important part of his commentary is undoubtedly this:
Siegel said he wants "to know what his psychiatrists think" with Fetterman's recovery but noted that it's "very unusual that somebody that's being admitted for severe depression would be performing their job."
'That's very unusual,' Siegel said. 'Let alone as a senator.'
He clarified that there's an obvious difference between a physical and mental injury.
One shouldn't have any impact on your cognitive abilities, while the other certainly could. As Siegel stated, "mental illness, by definition, is an impairment of mood and judgment."
Siegel finished by saying that if Fetterman is responding well to treatment, maybe it's okay for him to still be working.
As for the reason why the Senator remains in the hospital, Siegel thinks doctors might be "keeping an eye on him while allowing him to work to restore his self-esteem."
Fetterman, a stroke victim, defeated GOP challenger Dr. Mehmet Oz during last year's midterm elections, and many naysayers said Fetterman wasn't fit to serve, despite the win.
That's why this hospital visit – while related to his mental health – might be more evidence of this claim.
Key Takeaways:
Sen. John Fetterman is still working, despite remaining in the hospital for clinical depression.
Dr. Marc Siegel said this is "very unusual" and reminds us that depression is a mental impairment, which could have an impact on his cognitive abilities.
Siegel added that he would be "very disturbed" about letting a Senator take action while getting treatment for severe depression.