Fetterman Humiliates Himself on Live TV – His Ridiculous Outfit and Word Salad Goes Viral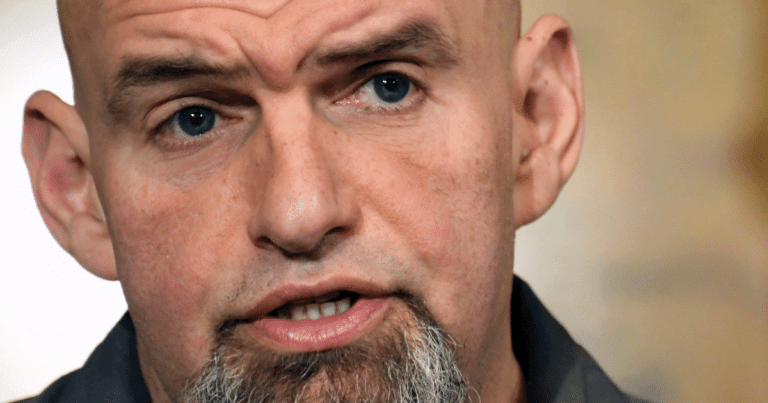 What's Happening:
There is an old saying that comes from ancient Latin, "Clothes make the man."
The idea is that nice clothes can make a person presentable, even stately, in public.
A few thousand years later and the saying has lost its meaning thanks to this unsightly, incompetent boob in the U.S. Senate. This senator is the poster boy for a "hobo chic" wardrobe. From Fox News:
Sen. John Fetterman, D-Pa., donned a hoodie and a pair of shorts with sneakers for a Saturday event with President Biden and Pennsylvania Gov. Josh Shapiro in Philadelphia, where officials discussed Interstate-95 and the reconstruction efforts underway.

The combination of clothes — a Carhartt hoodie and athletic-wear shorts with sneakers — has become a part of the junior senator's wardrobe for official functions. Fetterman was seen numerous times on the campaign trail last year wearing the same get-up, and last month he appeared at a Senate news conference wearing a similar outfit.
This character couldn't get it together to meet the president of the United States and apparently no support staff suggested he change outfits. He wore the same frumpy clothes all day long!
Somehow, maybe, people can let it slide that he hasn't been able to figure out what clothes are presentable for a U.S. senator. Maybe on his first day when he checked out his new office, but this scruffy clown should have his wardrobe together by now.
The problem for Fetterman is that getting properly dressed isn't his only problem. This guy is still having trouble speaking properly. The only way to understand the problem here is to read what Fetterman said.
From Fox News:
"And now I'm standing next to the president again next to a collapsed bridge here," he added. "He is here to commit to work with the governor and the [delegation] to make sure that we get this fixed quick, fast, as well, too. This is a president that is committed to infructure [sic], yeah, and then on top of that the jewel kind of a law of the infraction [sic]."

After he concluded his remarks, Fetterman introduced Rep. Brendan Boyle, D-Pa., to the podium, referring to him as "Congressman Boyle Bile."
This is bad. Now there are reports that staffers have altered their transcriptions from several hearings because they are concerned his word salad babblings will expose the senator's health.
Fetterman checked himself into a hospital in February for mental health issues and did not get back to the Senate until April. He should have resigned and headed home.
Handlers and their cohorts in the media have covered for this bozo's incompetence since his campaign for office. His staff knows he has no business speaking in public and should do us all a favor and keep him away from a microphone.
Fetterman also needs to know that his wardrobe should be tossed because it's killing his image. And our eyeballs.
Key Takeaways:
Bumbling Biden meets up with fumbling Fetterman.
Feckless duo tries to assure people they'll rebuild a bridge.
Fetterman dresses like a hobo and speaks like a bozo.
Source: Fox News