Days After Fetterman's Hospital Scare – The New Senator Shows Up to Work Carrying a New Device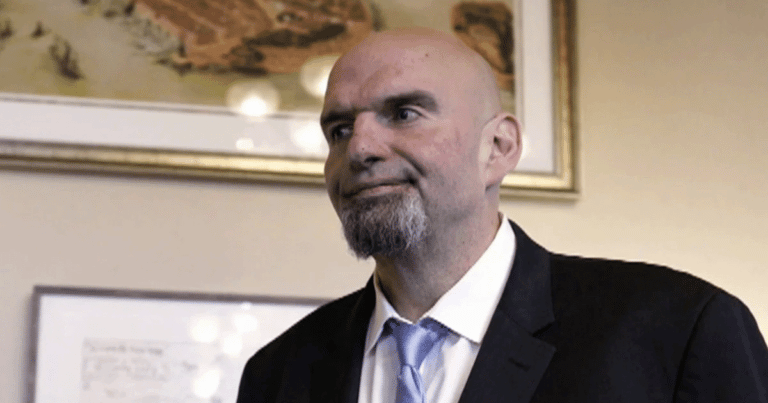 What's Happening:
We all raised the alarm about John Fetterman's poor health, way before he was elected to the Senate. But, there are consequences to elections and the people of Pennsylvania preferred a stroke victim to someone with a working brain. True to form, Fetterman was rushed to the hospital last week.
Doctors have been evasive about his condition. We don't know what happened last week or what Fetterman is suffering from. But in a matter of days, doctors rushed him out of the hospital and back onto the Senate floor. Where, conveniently, he was able to tow the Democrat Party line.
From Politico:
John Fetterman (D-Pa.) returned to the Senate to cast his vote to confirm a circuit court judicial nomination — Cindy Chung to the Third Circuit — on Monday, the first time he returned since being hospitalized for several days last week.
But Fetterman is carrying around a little trophy of his ailing mental health.
From Fox News:
Due to his condition, the Senator carries around a closed captioning tablet in order to converse with people while at work, and his office is also equipped with closed captioning devices.
Why does the man need a tablet with closed captioning? Because he can't understand what people are saying! His severe stroke left him unable to hear people, so he needs this device to transcribe what people.
Does that sound like someone who is fit to serve in the Senate? Of course, not. But the Democrats don't seem to care, so long as they have a warm body to cast votes for them.
From Fox News:
Despite the health concerns, Sen. Amy Klobuchar, D-Minn., said the devices Fetterman uses are something people will just have "to get used to."
Yeah, just get used to a senator who is so impaired, he doesn't know what you're saying. That's good for someone who has to listen to speeches, hearings, and other critical meetings and decide on legislation that affects the entire country.
This is how desperate Democrats are to maintain their slim majority in the Senate. They can't admit this man is unwell. All they care about is holding onto as much power as they can.
Hmm… remember when Democrats, including Joe Biden, accused Republicans of being "threats to democracy"? What do you say about a party that lets a sick man with mental problems serve on the upper chamber of Congress? Who's the real threat to our democracy?
Key Takeaways:
John Fetterman returned to the Senate floor after being rushed to the hospital.
The Democrat was left impaired after a severe stroke last year.
The man needs a tablet to transcribe words, as he cannot hear people.