Fetterman's Return Turns Heads Across America – The "Senator" Drops Jaws with His Unexpected, Inappropriate Outfit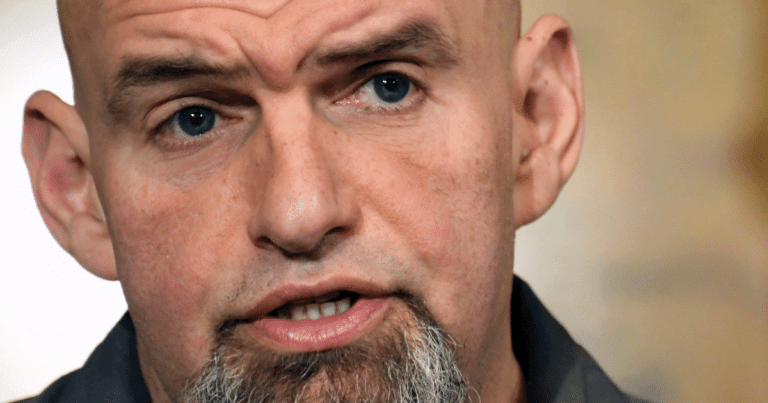 What's Happening:
What are we going to do about Pennsylvania? After many dire warnings, the state elected John Fetterman, a man who had not recovered from a severe stroke, to the U.S. Senate. The man's first few months in office have not been stellar. And they were capped off with a 60-day stay in the hospital.
Does anyone think a man that unwell is fit for office?
The liberal media huddled around Fetterman, making him sound like a hero for dealing with his "clinical depression." But his staff hid the man from view for two months. Only now, with a quarter of the year gone, is he returning to the Senate. But it is hardly a triumphant comeback.
From Fox News:
Sen. John Fetterman, D-Pa., returned to the Senate Monday in a black hoodie and shorts, after a six-week stay in the hospital where he was treated for clinical depression.

As the senator entered the Capitol for one of the first times since taking office in January, he refused to take questions from the press…

Fetterman suffered a stroke in May 2022 while campaigning for Pennsylvania's open Senate seat, causing him to have cognitive issues, including a problem with auditory processing.
Fetterman showed up to work with his Gym Clothes on.

This is an embarrassment

If he can be a Senator then I can be a Senator too! Anyone can and would be a better one than him.

He's to lazy to put on suit for the American people and hasn't been at work since he won.

GET… pic.twitter.com/LzG8sAyJRs

— Terrence K. Williams (@w_terrence) April 18, 2023
What the heck? Fetterman was filmed returning to the U.S. Senate… wearing workout sweats. The man refused to answer questions because–as we all know–he doesn't understand human speech. Yet despite all these troubling signs, he will be chairing a subcommittee hearing.
A man who cannot hear is going to be part of a subcommittee. Is this real life?
But, hey, who cares if he's wearing sweats to the U.S. Senate? Who cares if he shows up in a giant onesie? It's not as if he's a real senator. He's just a warm body that the Democrats will poke with a stick when it comes time to rubberstamp Biden's socialist agenda.
Fetterman's entire story up to this point has been ludicrous. The Democrats refused to pay attention to warning signs that the man was unwell. His own wife ditched him after he entered the hospital, running off with their kids to Canada.
When are the Democrats going to admit this man should not be in office? He can't even communicate, for crying out loud. Why is that okay? We've seen numerous times how far Democrats will go to hold onto power.
Now we know they'll force a sick man in sweats to "serve" in the Senate. What a joke.
Key Takeaways:
John Fetterman returned to the Senate wearing workout clothing.
The man missed 60 years in office due to an extended hospital stay.
Fetterman has not appeared to recover from a severe stroke in May 2022.
Source: Fox News