DeSantis Executes Power Move on Border Crisis – Florida Just Launched Historic Legal Actions to Stop Biden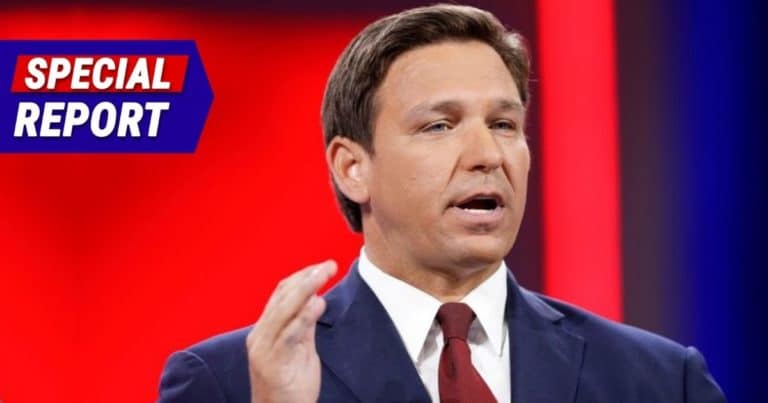 For millions of American citizens, the country's biggest concern right now is clear: illegal immigration and the ongoing border crisis.
Southern states especially have been forced to shoulder the burden, which is why leaders like Gov. Greg Abbott (TX) and Ron DeSantis (FL) have taken historic strides to protect their residents.
Now, the Sunshine State is matching the Lone Star State stride for stride — they've got their own plan to deal with the crisis.
Gov. DeSantis has been a vocal critic of the border crisis, which has been going on ever since President Joe Biden took office. The numbers from border authorities show record surges between 2020 and 2022.
Republicans and other Conservative lawmakers say it's a serious humanitarian disaster, and accuse the Biden administration of doing nothing to address it.
That's why DeSantis just unveiled a sweeping immigration reform plan, which is likely to pass given that Republicans hold sway in Florida now.
Via The Daily Wire:
Florida Republican Governor Ron DeSantis announced on Thursday a series of new legislative actions that his administration is proposing to combat President Joe Biden's illegal immigration crisis.

The extensive legislative

proposal

 increases penalties for human smuggling, strengthens statutes for the detention of illegal aliens, requires universal use of E-Verify, enhances penalties for document falsification, and prohibits the issuance by local governments of ID cards to people who are not lawfully in the country, the governor's office said.
During a press conference, DeSantis said flatly, "This country is unable to control its own borders."
BREAKING: Gov. Ron DeSantis announces new plan to combat "Biden's border crisis"
– Require ALL employers use E-Verify
– Increase penalties for human smuggling
– Crack down on nonprofits creating IDs for illegal migrants
– Invalidate all out-of-state licenses for illegal migrants pic.twitter.com/cv3Sb7tWL4

— Florida's Voice (@FLVoiceNews) February 23, 2023
The full proposal contains several hard-hitting changes to the current system, and they're all designed to hinder the flood of illegal migrants.
It implements felony charges for aiding and abetting illegals and makes a point of cracking down on smuggling. It also forces employers to use E-Verify to ensure applicants are legal citizens.
Beyond that, here are a few of the major points of the legislation:
Prohibits local governments from issuing ID cards to unauthorized aliens and invalidates out-of-state licenses issued to unauthorized aliens.
Requires affirmation of United States citizenship and legal Florida resident status for voter registration.
Requires hospitals to collect data on immigration status of patients and to regularly submit reports on cost of care provided to illegal aliens.
Prohibits out-of-state tuition waivers at colleges and universities for unauthorized aliens.
Prevents unauthorized aliens from being allowed to practice law.
Closes loopholes that allow illegal aliens to be released from ICE detention.
DeSantis added that his state refuses to "turn a blind eye to the dangers of Biden's border crisis," and that "Florida is a law and order state."
Former DHS chief Chad Wolf applauded the proposal and posted on Twitter:
Florida is a leader in how state's can combat the Biden Border Crisis. Enhanced penalties for human smuggling and mandating E-Verify are powerful deterrents all states should adopt. https://t.co/DTLFzBLoTu

— Chad Wolf (@ChadFWolf) February 24, 2023
Border authorities have warned that migrant surges could once again break records in 2023, especially if the Biden administration succeeds in abandoning Title 42.
Vice President Kamala Harris adopted the now-infamous "Border Czar" title several years ago, when Biden put her in charge of the crisis. But many say she's done next to nothing to fix the issue.
Republicans continue to accuse the left of wanting no borders, and no immigration or citizenship law — an idea that no civilized country in the world believes in, and for good reason.
Key Takeaways:
Florida Gov. Ron DeSantis revealed a sweeping proposal designed to combat the border crisis.
It cracks down on illegal smuggling, stops illegals from obtaining IDs, requires proof of citizenship for voting, and closes other loopholes.
DeSantis said Florida is a "law and order state" and added that "this country is unable to control its borders."
Source: The Daily Wire