After Florida Students Try To Stop Melania – The First Lady Is Honored With The 'Woman Of Distinction Award'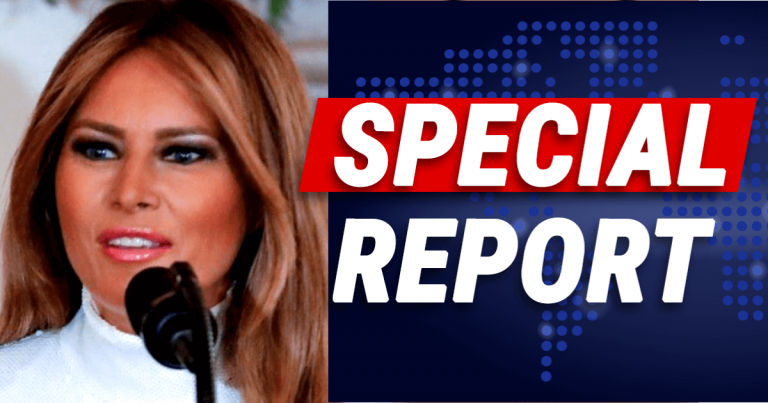 Not long ago, Donald Trump and his wife Melania moved from cold liberal New York City to the warm embrace of conservative Florida.
That will be their permanent residence, once Trump leaves office.
Since moving, an organization wanted to honor the first lady for her stellar work in Washington. The award is giving to women who contribute to the community.
I can't think of another woman more worthy of such an award.
But some snowflake students were outraged. They claimed Melania didn't deserve the award for a bogus reason.
Did that stop them from honoring Melania? Nope.
From the Hill:
First lady Melania Trump on Wednesday received a "Woman of Distinction" award from Palm Beach Atlantic University (PBA), despite pushback from some students and alumni in Florida over the move…

"As the first lady of the United States, it is a great honor to serve the people of this incredible country," she said at the university's annual Women of Distinction luncheon at The Breakers Hotel, where she accepted the award.
A few students were upset that Palm Beach Atlantic University was giving the first lady the "Woman of Distinction" award.
They claim because she only recently moved to the state, she doesn't deserve it. Bogus.
The first lady has launched an initiative that has been inspiring students across the country. She has been helping children achieve their dreams and embrace education.
Her impact goes well beyond Washington. It reached the entire country. That includes your community, students!
But we know the real reason these snowflakes complained. Melania is the wife and strong supporter of President Trump. These most-likely liberal students were outraged that their school would give an honored award to anyone named "Trump."
Too bad they were ignored, huh?
Does the left's pettiness know no limits? Will they complain about anything related to Trump?
Thankfully cooler heads prevailed and Melania got an award she well deserves.
SHARE to tell everyone about Melania's big honor!
Source: The Hill